An overseas nursing programme with Projects Abroad is an opportunity for you to get the experience you need for a career as a nurse.
This is what you can expect from our international nursing placements:
Get first-hand insight into nursing practices in a developing country
Shadow professionals in clinical environments like hospitals and clinics
Learn about global healthcare issues and challenges
Develop essential medical skills, like measuring blood pressure and blood sugar levels
Give back through community healthcare outreach programmes
Important update for university Elective students
Over the last few weeks we've been contacted by more and more people studying nursing at university. They have to complete Elective placements in order to graduate, but are struggling to get them arranged in the UK.
Our industry-leading Nursing Elective placements are up and running in the developing world. As soon as UK travel restrictions end, we'll be able to place you in a hospital or clinic to complete your Elective.
We're also offering a student discount to help make things more affordable for you.
If you or someone you know need an organised Nursing Elective placement, check out the options here. We'll be on hand to complete any paperwork needed by your university, and can offer advice on the most suitable option.
Options for Nursing projects
You can do volunteer nursing abroad in several developing countries around the world. Our internships are flexible and safe, and placements are adjusted to your level of experience. So, whether you're interested in pre-nursing volunteer opportunities, or you're a nursing student looking to volunteer at a hospital, our work placements are a great fit!
Looking to learn about a specific branch of nursing? We can organise placements in:
Adult Nursing
Child Nursing
Mental Health Nursing
Learning Disabilities Nursing
Speak directly to our Projects Experts to learn more about where we can facilitate these placements for you, and how we can tailor your experience to fit your clinical interests.
We also offer:
Choose a Nursing Internship
1-3 of 7 Projects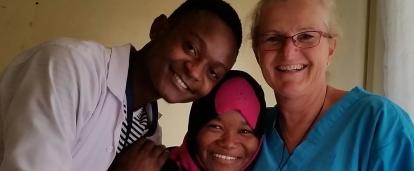 Nursing Internship in Tanzania
See this project
Price:

£1,370 for 1 week

Extra Weeks:

£230

Start Date:

Anytime

Minimum Duration:

1 week

Age:

16 or over
Nursing Internship in Mexico
See this project
Price:

£1,600 for 2 weeks

Extra Weeks:

£230

Start Date:

Anytime

Minimum Duration:

2 weeks

Age:

18 or over
Nursing Internship in Nepal
See this project
Price:

£1,175 for 2 weeks

Extra Weeks:

£180

Start Date:

Anytime

Minimum Duration:

2 weeks

Age:

16 or over
Load More
I saw many unique things that I would never have had the opportunity to observe at home, conditions such as Tuberculosis and Malaria as well as more common reasons for hospitalisation like road traffic accidents, complications in pregnancy, hernias, leg wounds and retro-viral patients.
Nursing Internship in Ghana
The support that Projects Abroad gave me in preparation for the trip as well was throughout my trip was phenomenal. Before I left for Arusha I received information about obtaining a visa and vaccinations as well as what to pack and how to prepare for culture shock.
Nursing Internship in Tanzania
How to get Nursing Work Experience
Most of our nursing placements abroad are open to people aged 16 and over. To get nursing work experience, all you need to do is check that you meet the requirements for the Nursing Internship of your choice, and fill in the application form. Our Project Experts are here to assist if you need help finding a programme that meets your needs and goals.
Having this kind of nursing work experience will strengthen your CV and give you great discussion points in interviews and essays, perfect for pre-nursing students and recently qualified nurses. It's also ideal for experienced nurses who want to branch out in their career and try something different.
Not 100% convinced a nursing internship is for you? Here are other options for you to look at:
What will I gain from nursing overseas?
Whether you're just getting started as a pre-nursing student, or you're in the middle of your nursing studies, our placements will give you unparalleled international clinical experience to support your future career.
Here are just some of the benefits that our previous nursing interns talk about:
Soft skills such as communication, planning, organising, teamwork, resilience, time management, and leadership
Experience with illnesses and medical conditions that might not exist in your home country
More in-depth work experience that you might not be able to get in your home country
A greater understanding of other people and cultures, helping you to develop a 'global mindset' as you work together
Increased confidence as you expand your horizons and push past your comfort zone
All of the above will enhance your CV, UCAS applications, and your personal development.
Why does this internship matter?
This experience will bring you closer to a future working in your chosen field. We're proud to support future talent who will bring vital skills to communities in need.
Will my nursing volunteer experience be an ethical one?
Yes! At Projects Abroad, our first aim is to benefit the communities we work in. You can be assured that your Nursing Project is ethical, well supported, and part of a better future. All of our Medicine & Healthcare Projects are guided by a comprehensive code of conduct policy, as we take the safety of our volunteers, interns, and the people they work with very seriously.
Our Projects are also structured in a way that you'll still make a real impact, even if you're only there for a short time. Our blog about short-term volunteering explains how we facilitate this.
Here are a few more elements of our work that set it apart from other overseas nursing placements:
Recording our work in a secure database
We created a Global Impact Database so we can track the positive impact our Projects have. This is a secure and anonymous database that we use to identify specific areas of need. It allows us to use data to shape medical outreaches and health awareness programmes. We can also monitor individuals we see often, report our results, and collect data for research. All of this work is guided by our Management Plans.
Real work with trained professionals
Through our volunteer nursing overseas programmes, you'll work alongside real healthcare professionals. You can observe them in their everyday work, ask questions, and hear more about their experiences. You're likely to get more insight into the frontline of medical care than in your home country.
A tailored approach
We're often able to tailor your nursing placement to your interests. You can work in more than one department or focus on one particular area, or experience outreach work in the local community.
Our Medicine & Healthcare Policy
We take the safety of our volunteers, interns, and the people they work with very seriously. That's why we've put in place a comprehensive Medical Ethics Policy.
Need more help?
We'd be happy to talk about creating a custom project for you. Most of our staff have been volunteers themselves, so they're well placed to answer your questions, big or small.
01273 007 230
or
Get in Touch
to start planning your project
Not quite what you're looking for?
Take a look at the following pages where you'll find collections of similar projects: