Join one of our international internships and learn from experienced local professionals in developing countries to boost your career development.
This is what you can expect on one of our work placements abroad:
Gain first-hand practical knowledge in your field to help your future career
Have an experiential education experience where you learn by doing
Hone essential soft skills like communication and organisation
We're here to help you find overseas internships that match your requirements and level of experience as closely as possible. We offer a wide variety of short and long-term internship placements, perfect for students and those interested in working holidays abroad.
Whether you're looking to learn more about human rights on the ground, or you want to get experience shadowing doctors in a hospital, we'll help you select the perfect work abroad programme.
Looking to intern in China specifically? Read more about the China internship placements we offer year-round.
Options for Overseas Internships
View specific types of internships using the links below:
Why do international internships?
A work placement abroad is an excellent way to:
Equip yourself with new knowledge and skills
Gain experience in your chosen field
Help you decide whether a specific career is really for you
Build an international network by working with a diverse group of local professionals and interns
Another advantage of getting work experience overseas is that you'll improve valuable skills like communication and planning.
If an internship is not quite what you're looking for, then take a look at our volunteer projects abroad. You can work in Childcare, Conservation and more.
How can I get an internship overseas?
Our international work placements are open to people from all backgrounds who are at least 16 years old. They're particularly valuable if you're about to join university, already a student, or looking for graduate internships abroad. You'll gain practical work experience and skills that will help set you apart for future employers or university admission panels.
Requirements vary depending on the internship you choose, but for most internship work abroad, you can join without any specific qualifications or expertise. You'll work alongside experienced professionals and you'll be guided every step of the way if you need it.
Throughout your project, you'll be supervised by our friendly local staff. They'll be available 24/7 to support and guide you through the work you do.
If you're worried about how much you can really gain from an internship when you're going in with little experience, read our blog about interning abroad with no experience.
How do I find a summer internship abroad?
If you're planning on working abroad for the summer to give your CV an extra edge, our projects are a great fit. They run throughout the year and have flexible dates, so you can do summer internships abroad with us any point over June, July, or August.
Summer is a popular time of year to intern abroad, especially for high school graduates and university students. We recommend applying early to make sure you get a spot on the placement of your choice. This is especially important if you're applying for a trip with fixed dates, as those fill up quickly!
Choose an Internship Placement
1-3 of 135 Projects
Law and Human Rights Internship in South Africa
See this project
Completely flexible dates
Anyone aged 16 or over can join
From 2 weeks
From £1890
Medical Internships in Nepal for Teenagers
See this project
Fixed dates during school holidays
This project is only for 15-18 year olds
From 2 weeks
From £1445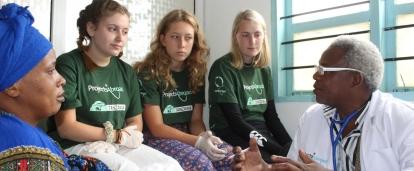 Medical Internship for High School Students in Tanzania
See this project
Fixed dates during school holidays
This project is only for 15-18 year olds
From 2 weeks
From £1670
Load More