Get the professional development and skills you need to drive your studies or career forward with a Projects Abroad international law internship or human rights programme.
With us, you can take your career development to an international stage. Our global internships help you:
Get unparalleled insight into legal practices, human rights issues, and social challenges
Learn directly from experienced lawyers and human rights professionals
Add practical, real-world work experience to your CV
Decide if pursuing your passion for law or human rights is the right career path for you
In developed countries, we often take our human rights and access to legal advice for granted. But there are people around the world whose voices aren't heard and whose causes aren't championed. We connect interns like you with organisations in developing countries who work tirelessly to change this.
On our Law Internships Abroad, you can:
Help provide legal aid to people who really need it
Work in a local law firm or NGO
Choose to specialise in areas like corporate law
On our Human Rights Internships Abroad, you can:
Help protect human rights and campaign for change
Work with organisations like charities or NGOs
Choose to specialise in areas like human rights law or social justice campaigns
Our projects are flexible and safe, and placements can be adjusted to your level of experience. This makes them ideal for undergraduates, graduates, and professionals! We also have programmes for teenagers interested in getting law and human rights work experience.
Choose a Law & Human Rights Project
1-3 of 10 Projects
Human Rights Internship in Ghana
See this project
Price:

£1,545 for 1 week

Extra Weeks:

£280

Start Date:

Anytime

Minimum Duration:

1 week

Age:

18 or over
Human Rights Internship with Spanish in Argentina for Teenagers
See this project
Price:

£1,755 for 2 weeks

Extra Weeks:

£380

Start Date:

During school holidays

Minimum Duration:

2 weeks

Age:

15-18
Human Rights Internship in Tanzania
See this project
Price:

£1,650 for 2 weeks

Extra Weeks:

£255

Start Date:

Anytime

Minimum Duration:

2 weeks

Age:

16 or over
Load More
Can't find what you're looking for?
We'd be happy to talk about creating a custom project for you. Most of our staff have been volunteers themselves, so they're well placed to answer your questions, big or small.
01273 007 230
or
Get in Touch
to start planning your project
Is a Human Rights or Legal Internship Abroad right for me?
Our legal internships and human rights internships are open to people of all backgrounds and skill levels. To join a project, all you need to do is check that you meet the requirements, and fill in the application form. Our Project Experts are here to assist if you need help finding human rights or law volunteer opportunities that fit your goals.
Curious about whether this is a good match for you? If you tick one or more of the options below, then the answer is yes!
You're interested in law placements for undergraduates
You're asking yourself "Where should a first year law student intern?"
You're eager to take on a human rights internship for undergraduates
You're a graduate or professional wanting legal volunteer opportunities
You can also join if you're simply wanting to better understand legal, human rights and social issues in developing countries.
Adding international work experience to your CV will strengthen applications for school or jobs, and give you fascinating points to talk about in essays and interviews. It can also help you decide if you want to pursue a career in law or human rights.
You don't need experience to join a law placement or human rights internship. You'll be in a well-supported environment, working alongside professional lawyers, campaigners, and Projects Abroad staff. Your day-to-day tasks will see you doing things like, research, reviewing cases, and delivering presentations. You may also work on social justice campaigns to raise awareness of and create change around challenging issues.
Interested in something broader than a Law & Human Rights Internship? You may be interested in International Development Internships or Social Work Internships. Read our full list of internships abroad.
My project provided me with a much wider understanding of the challenges of running an NGO in a developing country, as well as some real perspective. - Laura M, Human Rights in Tanzania
What will I gain from a Law & Human Rights Internship?
A global internship gives you skills that prepare you for your next stage of education and career. You'll also get unique international work experience that you can talk about at interviews.
Here are just some of the benefits that our previous interns talk about:
Soft skills like teamwork, communication, leadership, resilience, organising, planning, and time management.
Legal expertise in your chosen subject area.
The ability to work and empathise with people of different cultures and backgrounds, helping to develop a 'global mindset'.
Confidence from pushing past your comfort zone.
All of the above will enhance your CV, UCAS applications, and your personal development.
I had the most amazing time in Argentina. I made memories that will last a lifetime. I met people who gave me perspective on my own life and my own direction. I felt inspired and challenged by the work I conducted and it has given me a new insight into my future career. The Human Rights Project is what you make of it and for any of you considering it; I would dive in head first and not look back. - Aoife F, Human Rights in Argentina
How are our Law & Human Rights Internships different?
At Projects Abroad, our first aim is to benefit the communities we work in. You can be assured that your internship is ethical and well supported. Here's just a few elements of our work that set it apart from other internship programmes.
Be fully supported by staff
On our human rights and legal volunteer opportunities, you'll work alongside professionals. You can observe them in their everyday work, ask questions, and hear more about their experiences. You'll be given tasks that stretch and challenge you, but you'll be supported to ensure you get real results. This is an incredible opportunity to learn through doing, while being mentored by experts.
Projects that have an impact
All our projects are well researched, targeted, and sustainable. We aim to make a difference to the local community for the long term. Your internship is an opportunity to genuinely make an impact on the lives of others.
I never expected the incredible opportunities that I was about to have while working at the Projects Abroad Human Rights Office (PAHRO). I learned more in my month of interning then I ever could have imagined. It was the first time in my life I felt like I was doing tangible work, and at the same time, I was actually touching the lives of people. - Emily D, Law & Human Rights in South Africa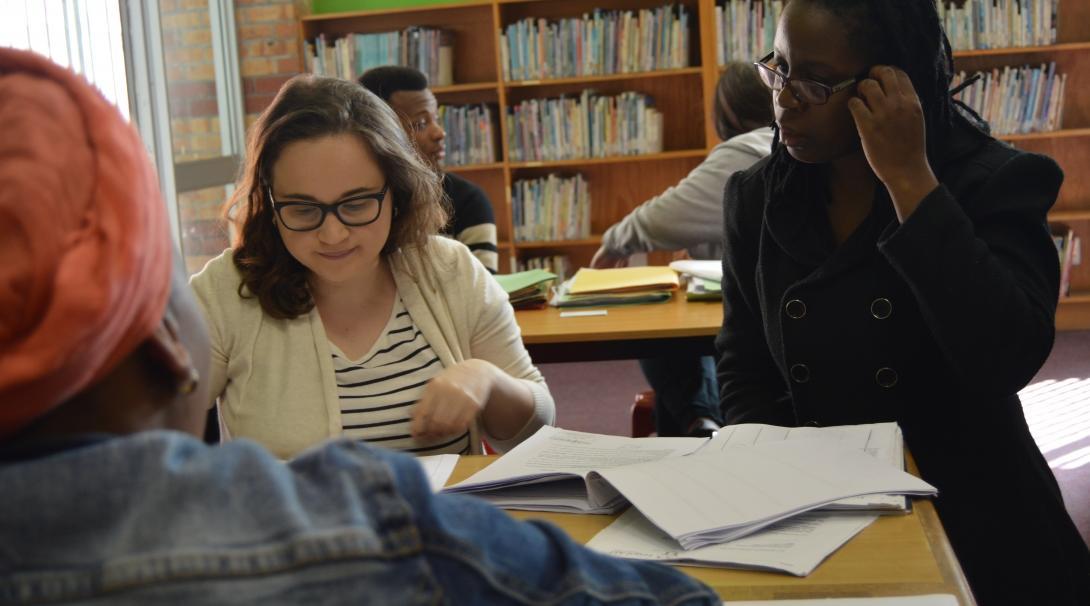 Not quite what you're looking for?
Take a look at the following pages where you'll find collections of similar projects: