Work placements abroad for students are an exciting and different way to build your CV and enhance your studies with real-world experience. You'll work alongside local professionals and actively learn from them, something that's difficult to replicate in a typical classroom environment.
Beyond those traditional four walls, you'll find fresh new perspectives and you'll discover more of what you're capable of. With our dedicated in-country staff at your side, you'll also be inspired to learn about the local culture, the language, and new ways of thinking.
Our internships abroad for undergraduates can help shape your mindset, goals, and the trajectory for your future career. So whether you want to boost your CV, or push yourself outside of your comfort zone, an internship overseas will help you realise your potential.
Volunteering abroad as an undergraduate can also help you achieve something similar. It's ideal if you're more focused on giving back than gaining work experience. Our programmes are centred around long-term, sustainable solutions, not quick fixes. So by volunteering with us, you know you'll be a part of something bigger. You'll be able to help create positive change in the world.
Choose a Project
1-3 of 139 Projects
Volunteer with Children in Nepal
See this project
Price:

£1,175 for 2 weeks

Extra Weeks:

£180

Start Date:

Anytime

Minimum Duration:

2 weeks

Age:

16 or over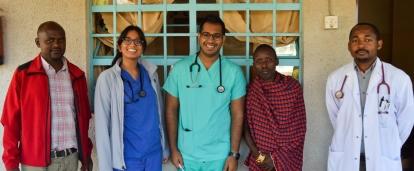 Medicine Internship in Tanzania
See this project
Price:

£1,600 for 2 weeks

Extra Weeks:

£230

Start Date:

Anytime

Minimum Duration:

2 weeks

Age:

16 or over
Giant Tortoise & Sea Lion Conservation in the Galapagos Islands
See this project
Price:

£1,645 for 1 week

Extra Weeks:

£280

Start Date:

Anytime

Minimum Duration:

1 week

Age:

16 or over
Load More
Can't find what you're looking for?
We'd be happy to talk about creating a custom project for you. Most of our staff have been volunteers themselves, so they're well placed to answer your questions, big or small.
01273 007 230
or
Get in Touch
to start planning your project
Internships Abroad for UK Students
Doing an internship abroad as an undergraduate can help you grow professionally and personally during your university years. The experience of travelling overseas will also give you more independence and confidence.
You'll learn directly from experienced local professionals and get first-hand knowledge of the field you're working in. It's a different and exciting way to add practical work experience to your CV. It's also an opportunity to explore potential career paths and enhance your studies.
As you grow professionally, you'll also further develop your personal skills. You'll learn to adapt to working in different environments and cultures. You'll also hone your communication and organisational skills. In addition, it's a great opportunity to network on a global level!
Our internships run throughout the year, no matter how many interns we have, so you can choose when to start and end. Throughout your internship, our dedicated in-country staff are there to support you 24/7 and provide a hassle-free experience. We're also available if you want to speak to us about arranging academic credit for your internship.
Volunteering Abroad as an Undergraduate
Volunteering abroad as a student can help you make an impact in the world and give you more experience in the field you're studying at the same time.
For example, getting out into the field and actively working with conservationists and scientists on a Conservation Project can enhance your understanding of subjects like biology, ecology, or geography. Or, if you're studying Early Childhood Education or becoming a teacher, you can put your knowledge into practice at a Childcare or Teaching Project.
We're happy to help you find the project that best matches your studies. If you're writing a dissertation for your degree, we can also give you the support you need to build all the primary source information you need.
Why should I intern or volunteer with Projects Abroad?
Going abroad with us will give you an opportunity to stand out from the crowd when it comes to applications and job interviews. You'll learn valuable soft skills like:
Communication
Teamwork
Planning and organisation
Responsibility
How to adapt to different environments and work cultures
Your experiences and the challenges you faced overseas will encourage employers to sit up and take notice. Talk about what you've learned and how you overcame challenges and found solutions to help demonstrate your potential!