If you're reading this, you're probably researching options for your Elective placement. There are so many routes you can take and they all have their pros and cons.
Many students are finding it hard to arrange placements in the UK. Even if you know you want to travel, you may not have decided whether to organise everything independently or to travel with an organisation.
We're a bit biased because our overseas Healthcare Electives have been getting rave reviews for decades. However, we know that everyone's different. What's important is that you get the elective placement that's right for you. So read on for our take on the key things you need to think about, and advice on getting this decision right.
Why travel overseas for your Medical Elective Placement?
Doing your Elective in the UK will certainly keep the costs down. However with COVID-19 restrictions, they're becoming increasingly more difficult to organise this academic year. Therefore, the first big advantage of an overseas placement is that they're running and you can actually join one!
There's also so much to gain both professionally and personally while doing your elective overseas, especially when travelling to a developing country.
"It was incredible to learn about the differences between healthcare in Sri Lanka and in the UK. I hadn't realised how much I had taken away from this nursing experience until I was back in practice in the UK; I am so glad that I had the opportunity to learn in this limited-resource setting, it has been invaluable for my practice."

Katherine H - Nursing Elective in Sri Lanka
There are plenty more reasons to do an elective abroad in 2023. You'll:
experience different medical practices and be faced with illnesses not common in the UK.
learn about a new culture and have the opportunity to view the UK's healthcare system with a different perspective.
improve your soft skills such as communication, time management and adaptability. All key skills for a career in medicine and healthcare.
Why travel with Projects Abroad for your Elective Placement?
You may be well-travelled and already have connections in the medical field around the world. In this case, organising your Elective independently might be a good option.
For most students this isn't the case. Organising each component of your Elective separately can be stressful and time consuming. We often hear of electives falling through or being cancelled last minute without an alternative option available.
We're experts at arranging overseas Electives and we do all of the hard work for you. This allows you to have a stress-free experience from start to finish. Whether you're doing an Elective in Medicine, Nursing, Midwifery or Physio you'll get:
A tailored elective placement
£100 student NUS discount
Completely flexible dates
Placements from 2 to 12 weeks
A qualified English-speaking supervisor
The option to specialise or rotate
A choice of hospitals, health clinics and community outreach
Accommodation, food and airport transfers
Insurance organised by us if required
24/7 support and guidance from our team in-country
The opportunity to meet medical students from around the world
We'll support you all the way, from liaising with university staff and completing paperwork to helping with visas and flights. We can even help with your independent weekend travel.
If there are travel restrictions in place for your booked destination we will ensure an alternative option is available at no extra cost. You will also be entitled to a full refund for any COVID-related cancellations.
Don't just take our word for it
"Over the three weeks I was there, we received lectures on HIV and AIDS in Tanzania, had a Swahili lesson, took part in discussions about healthcare in Tanzania and maternal-foetal health in Africa, and we got a chance to meet with Tanzanian medical students and learn about their experiences. On our last night, we even had a cooking class in the office kitchen!"
If you're still unsure about what route to take we're more than happy to discuss your options with you. If you have very specific requirements or want to check whether your specialism is available, contact us today and we will guide you from here.
Choose a Medical Elective Project
1-3 of 11 Projects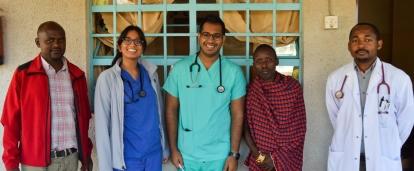 Medicine Internship in Tanzania
See this project
Price:

£1,600 for 2 weeks

Extra Weeks:

£230

Start Date:

Anytime

Minimum Duration:

2 weeks

Age:

16 or over
Medical Internship in Peru
See this project
Price:

£2,060 for 4 weeks

Extra Weeks:

£230

Start Date:

Anytime

Minimum Duration:

4 weeks

Age:

18 or over
Midwifery Internship in Tanzania
See this project
Price:

£1,600 for 2 weeks

Extra Weeks:

£230

Start Date:

Anytime

Minimum Duration:

2 weeks

Age:

18 or over
Load More
Can't find what you're looking for?
We'd be happy to talk about creating a custom medical student elective placement for you. Most of our staff have been volunteers themselves, so they're well placed to answer your questions, big or small.
01273 007 230
or
Get in Touch
to start planning your project