Experience living in South America through voluntary work in Argentina. You'll learn about day-to-day life directly from local people, while also supporting communities in need.
We have several different volunteer opportunities in Argentina. You can support early childhood development at a disadvantaged care centre, or work with horses and children at a therapy and rehabilitation centre. You can also kickstart your medical career by learning directly from doctors at a local hospital.
We're based in the metropolitan city of Cordoba, Argentina's second largest city and the capital of the Cordoba Province. Our full-time staff in Argentina are there to support you 24/7 if you need it.
You're bound to have an exciting and memorable time in Argentina. In your free time, visit the World Heritage Site of Jesuit Estancias or the enormous Mar Chiquita salt lake. Or, explore the slew of hiking trails along the Andes Mountain Range.
Projects available in Argentina
1-3 of 13 Projects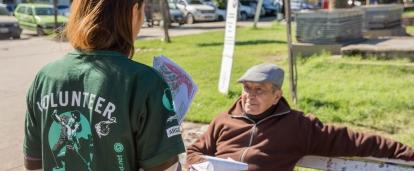 Human Rights Internship in Argentina
See this project
Completely flexible dates
Anyone aged 16 or over can join
From 1 week
From £1,395
Volunteer with Children in Argentina
See this project
Completely flexible dates
Anyone aged 16 or over can join
From 1 week
From £1,270
Human Rights Internship in Argentina for Teenagers
See this project
Fixed dates during school holidays
This project is only for 15-18 year olds
From 2 weeks
From £1,720
Load More
Can't find what you're looking for?
We have the expertise and staff on the ground to create a custom project for you, or simply help you find the best option.
Speak to one of our Argentina experts on:
01273 007 230
or email:
to start planning your project
Where we are based in Argentina
Cordoba
As a volunteer in Argentina, you'll live and work in Cordoba. It has good public transport links, both local and long-distance, which makes it convenient for you to travel.
If you enjoy nature, take advantage of the many hiking trails. Stop by Parque Sarmiento, and visit the stunning ancient ruins of Medina Azahara. For culture, check out the local museums and art galleries, and take time to stroll along Paseo De Los Artes.
Be sure to also try Salmorejo, arguably Cordoba's most famous dish. It's a delicious blend of tomatoes, bread, oil, and garlic, often garnished with diced Spanish serrano ham and diced hard-boiled eggs.
Safety and staff support
Your safety and security is our prime concern. We have many procedures and systems to ensure you have the support you need to enjoy your trip with peace of mind. Our Projects Abroad staff are available 24 hours a day to help, and will be on-hand to make sure you settle in well at your accommodation and placement. If you encounter any problems, they will be available to help at any time.
Find out more about safety and backup.
This placement is fully researched, safety audited, and risk assessed in accordance with the British Standard BS8848 for the Adventure Travel Sector.