Volunteer in Mongolia with Projects Abroad and make a difference while exploring a different country. Through our projects, you'll become part of ongoing efforts to support local communities.
Our Mongolia volunteer programmes have something to suit everyone. If you enjoy working with children, help support early childhood development at a childcare centre. Or, teach English at disadvantaged, rural schools. You can also learn directly from doctors at a hospital, or get practical journalism work experience at a television broadcaster.
No matter what project you choose, our friendly Projects Abroad staff will be available for you 24/7, and they can assist you with any issues or concerns.
Most of our projects are based in Ulaanbaatar, Mongolia's capital. It's the political and commercial hub of Mongolia, and still very traditional. So don't be surprised if you see monks and locals in traditional dress wandering past business professionals in suits on the streets!
Projects available in Mongolia
1-3 of 11 Projects
Volunteer with Children in Mongolia
See this project
Price:

£1,500 for 2 weeks

Extra Weeks:

£230

Start Date:

Anytime

Minimum Duration:

2 weeks

Age:

16 or over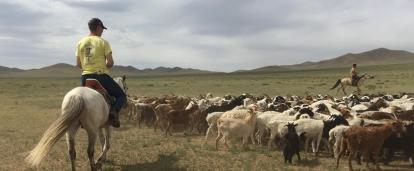 Live and Work with Nomads in Mongolia
See this project
Price:

£1,520 for 1 week

Extra Weeks:

£255

Start Date:

Anytime

Minimum Duration:

1 week

Age:

16 or over
Medical Internship in Mongolia for Teenagers
See this project
Price:

£1,605 for 2 weeks

Extra Weeks:

£330

Start Date:

During school holidays

Minimum Duration:

2 weeks

Age:

15-18
Load More
Can't find what you're looking for?
We have the expertise and staff on the ground to create a custom project for you, or simply help you find the best option.
Speak to one of our Mongolia experts on:
01273 007 230
or
Get in Touch
to start planning your project
Meet the team in Mongolia
Where we are based in Mongolia
Ulaanbaatar
You'll do volunteer work in Mongolia in Ulaanbaatar, the capital city and the only major urban settlement in the country. Ulaanbaatar is a fascinating city, with many contrasts. High-rise buildings sit alongside traditional tents called 'gers' all over the city.
You will live with a local host family in or around Ulaanbaatar. Mongolian people are known to be friendly and warm, so you are sure to be comfortable and well looked after during your stay.
In your free time, you'll have the opportunity to explore beautiful monasteries and interesting museums. You can also take a day trip out of the city to visit a nomad settlement, and we definitely recommend trying Mongolian BBQ.
Safety and staff support
Your safety and security is our prime concern. We have many procedures and systems to ensure you have the support you need to enjoy your trip with peace of mind. Our Projects Abroad staff are available 24 hours a day to help, and will be on-hand to make sure you settle in well at your accommodation and placement. If you encounter any problems, they will be available to help at any time.
Find out more about safety and backup.
This placement is fully researched, safety audited, and risk assessed in accordance with the British Standard BS8848 for the Adventure Travel Sector.