Is volunteering overseas one of your life goals? Something you desperately want to tick off your bucket list? Are you struggling to find enough time in your schedule to make it happen? We can help you make this dream come true through our safe and ethical short term volunteer projects abroad!
Projects Abroad champions Responsible Volunteer Travel. So no matter what project you choose, you can be 100% guaranteed that what you do makes a difference. We can also organise short term internships abroad, where you can skills to help you thrive in the academic or working world.
Our short term volunteer abroad programmes offer:
24/7 support from our local teams
Comfortable accommodation with a host family or other lodging
Support with booking flights and visa advice
For short term volunteering, there are two main types of travel you can choose from:
Flexi Trips: An independent volunteer adventure that has flexible start and end dates, i.e. you choose when to depart and return
Group Trips and Tours: We have various trips that take place over set dates throughout the year. Join a group and work together to tackle a specific challenge
For more details on the organised group trips we offer, as well as general information on short volunteer trips, read on below.
Group trips for short term volunteering
Our short term volunteer abroad group trips typically run from anywhere between 1-4 weeks throughout the year. We also split these group trips into age groups, so you travel with like-minded people your age.
Short Term Volunteering Abroad for Older People
Our Grown-up Specials are short term volunteer projects designed for people ages 50+. You can work with children, help protect endangered animals, and more.
Short Volunteer Trips for Teenagers
Work with teenagers your age from around the world. Our High School Specials are built for ages 15-18, and feature increased support and supervision from our staff. Perfect for young first-time travellers!
Short Term Overseas Volunteering for Students and Adults
Designed for adults 18 years and older, our Team Trips get groups of people together from different countries, and help them work together to achieve a specific goal. We offer Team Trips throughout the year, including spring and winter holidays.
Short Holidays Abroad (All Ages)
Interested in a more cultural experience for a short holiday abroad? Take a look at our Authentic Adventures.
Will I make an impact through short term volunteering?
Yes! Each year, thousands of people from all walks of life travel with us, and actively make a difference as a result. This happens because of the approach we take to our projects:
We work toward achieving long-term goals guided by the United Nations Sustainable Development Goals
Projects like Conservation, Childcare, Medicine, and Teaching each have a Management Plan to provide clarity and guidance
We input data into our Global Impact Database to track progress
If you have further questions about the impact of short term volunteering abroad, read our blog about how you can really make a difference with the time you have.
How long should I volunteer abroad?
While 1-2 weeks is very short to volunteer abroad, we facilitate these trips because our projects are set up in a way that you still give back, even in a short period of time.
However, if you can spare more time to volunteer, we encourage you to stay longer! You get to spend more time at your placement (leaving a bigger footprint) and you get to know your host country better.
What do I gain from short term volunteer opportunities abroad?
Becoming an international volunteer is an exciting and different way to make the most of a short holiday abroad. We understand that time may not be on your side and you can only go for a week or two. However, you can make the most of it, and you can still benefit from the experience! For example:
Enhance your CV for future academic or job applications
Challenge yourself in a real-world work setting and gain global experience
Boost soft skills such as team-building, communication, and planning
Deepen your understanding of the challenges that different countries face
Build new friendships from all over the world
Let us help you discover what you're capable of!
Can I volunteer abroad for free?
Choose a Short Volunteer Trip
1-3 of 139 Projects
Volunteer with Children in Nepal
See this project
Price:

£1,175 for 2 weeks

Extra Weeks:

£180

Start Date:

Anytime

Minimum Duration:

2 weeks

Age:

16 or over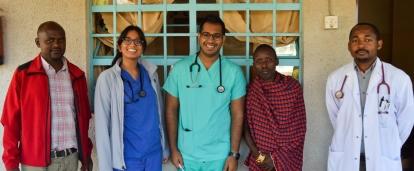 Medicine Internship in Tanzania
See this project
Price:

£1,600 for 2 weeks

Extra Weeks:

£230

Start Date:

Anytime

Minimum Duration:

2 weeks

Age:

16 or over
Giant Tortoise & Sea Lion Conservation in the Galapagos Islands
See this project
Price:

£1,645 for 1 week

Extra Weeks:

£280

Start Date:

Anytime

Minimum Duration:

1 week

Age:

16 or over
Load More
Can't find what you're looking for?
We'd be happy to talk about creating a custom project for you. Most of our staff have been volunteers themselves, so they're well placed to answer your questions, big or small.
01273 007 230
or
Get in Touch
to start planning your project