With Projects Abroad, you can do voluntary work with children, and help give them the skills they need to thrive during their early childhood. You'll work directly with local teachers and caregivers, and encourage young children to learn through educational activities and games.
This is what you can expect when you volunteer with children abroad:
Work within a community-based care system
Get to know more about Early Childhood Development, and how to implement it
Plan and run activities and games to teach things like motor skills and teamwork
Learn directly from the professional teachers and caregivers you work with
Get a deeper understanding of the global challenges children face
We also have placements where you can volunteer with children who have special needs, and help their caregivers by providing extra support.
By working with children, you'll become part of a team striving to give disadvantaged children more opportunities in life. You can also rest assured that you'll be part of an ethical programme where you can make a real impact. Each of our Childcare Projects is guided by a Management Plan, which was built around the UN Sustainable Development Goals. We also have a Childcare Policy in place.
Our childcare volunteer opportunities are flexible and can be adjusted to your level of experience. It's a safe and sociable way to give back to vulnerable communities, or gain work experience with children.
Choose a Childcare Project
1-3 of 32 Projects
Volunteer with Children in Nepal
See this project
Price:

£1,175 for 2 weeks

Extra Weeks:

£180

Start Date:

Anytime

Minimum Duration:

2 weeks

Age:

16 or over
Volunteer with Children in Ghana
See this project
Price:

£1,500 for 2 weeks

Extra Weeks:

£230

Start Date:

Anytime

Minimum Duration:

2 weeks

Age:

16 or over
Volunteering with Children in Cambodia for Teenagers
See this project
Price:

£1,430 for 2 weeks

Extra Weeks:

£305

Start Date:

During school holidays

Minimum Duration:

2 weeks

Age:

15-18
Load More
Can't find what you're looking for?
We'd be happy to talk about creating a custom project for you. Most of our staff have been volunteers themselves, so they're well placed to answer your questions, big or small.
01273 007 230
or
Get in Touch
to start planning your project
Is volunteer work with children right for me?
Our Childcare Projects are ideal for volunteers like you who care deeply about helping children in developing communities.
You don't need previous childcare experience, just the drive to help every child access the care that many of us take for granted. Our staff will be there to make sure you have everything you need to succeed at your placement.
Volunteering with children can also give you the childcare work experience you need to push your studies or career forward. Having international experience will strengthen your CV and will give you great discussion points in interviews and essays. It can also help you to decide if you want to pursue working with children professionally.
If you want to work with children, but feel a Childcare Project isn't right for you, you may be interested in:
What will I gain from working with children?
As a volunteer working with children, you'll give back to a community that needs extra support while developing your own skills.
Here are just some of the benefits that our previous volunteers talk about:
Soft skills like teamwork, leadership, resilience, organising, planning, and time management.
Experience in childcare and Early Childhood Development (ECD).
The ability to work and empathise with people of different cultures and backgrounds, helping to develop a 'global mindset'.
Confidence from pushing past your comfort zone.
All of the above will enhance your CV, UCAS applications, and your personal development.
Why does volunteering with children matter?
Early childhood development, educational support, and specialised therapy can be areas of real need in developing countries. In many communities around the world, children and those with special needs – some of the most vulnerable groups in society – lack access to these services. By working with children abroad, you can be part of our long-term mission to change this and make the world a better place.
How are our Childcare Projects different?
At Projects Abroad, our first aim is to benefit the communities we work in. You can be assured that your project is ethical, well supported, and part of a better future. Here's just a few elements of our work that set it apart from other volunteer projects:
Be fully supported by staff
We don't expect our volunteers to be education or childcare experts. On our Childcare Projects, you'll work alongside members of the local community and Projects Abroad staff. They will help you plan your work and be on hand to advise you as and when you need help. You'll also be part of a wider network of volunteers. In each project, there is a full-time member of staff who job it is to support our volunteers.
Recording our work in a secure database
We have created a Global Impact Database so we can track the positive impact our projects have. This is a secure and anonymous database that we use to identify specific areas of need. We can also monitor individual children in our projects to track their development.
Projects that have an impact
All of our projects where we work with children are well researched, targeted, and sustainable. We aim to make a difference to the local community for the long term.
We're about a lot more than pitching up and pitching in. We stand apart from other volunteer projects, as we're guided by annual reviews and thorough needs assessments which are brought together in our Management Plans. For us, bringing this level of professional strategic thinking to each project is a crucial part of making sure that our volunteers and the communities we serve both get the outcomes they need.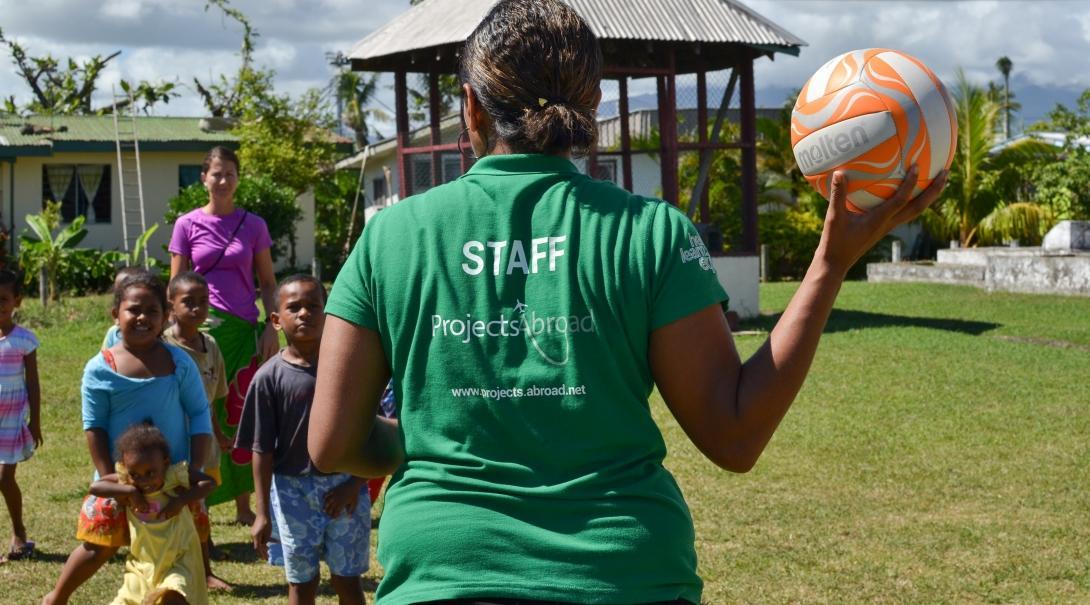 Where can I volunteer abroad to work at an orphanage?
With Projects Abroad, you won't be able to volunteer at an orphanage. In the past, our volunteers have worked with children at orphanages and residential care homes. They've done incredible work at these placements and helped improve living conditions there. They worked hard to create opportunities for children by supporting their education and care.
However, we've decided to move our focus away from orphanages and homes toward community and family-based care. This is because we believe stable family environments are best for the children we work with.
This means that instead of volunteering in orphanages, our volunteers work in placements like:
Daycare centres
Kindergartens
Schools
Support groups for the elderly and mothers and babies
This helps Projects Abroad build stronger relationships with local communities and – most importantly – help families stay together and flourish.
Learn more about Projects Abroad's views on orphanage volunteering.
Our Child Protection Policy
We take the safety of the children and young people we work with very seriously. That's why we've put together a comprehensive Child Protection Policy.
Not quite what you're looking for?
Take a look at the following pages where you'll find collections of similar projects: