With Projects Abroad, you can add international work experience to your CV and push your career development forward. We offer several types of work abroad programmes, from Medicine to Education. Whichever project you choose, you'll get real-world experience, and learn directly from real professionals.
Our work placements abroad also help you:
Stand out from the crowd in university or job applications
Get interesting and unique points to talk about in interviews and essays
Learn to overcome the different challenges you encounter, making you more adaptable and independent
Hone essential soft skills, like communication and teamwork
If you're asking yourself "What should I do for work experience?", take a look at some of our most popular work opportunities abroad:
Our projects run year-round, and are entirely flexible and safe. This means you can work abroad for a month or more, or do short-term work abroad from a duration of one week.
I have never had an experience like this before in my life. I am working in a position that you could only dream of getting in Europe if you had years of work experience. - Valerie V, Business in Mongolia
Choose a Work Experience Placement
1-3 of 139 Projects
Volunteer with Children in Nepal
See this project
Price:

£1,175 for 2 weeks

Extra Weeks:

£180

Start Date:

Anytime

Minimum Duration:

2 weeks

Age:

16 or over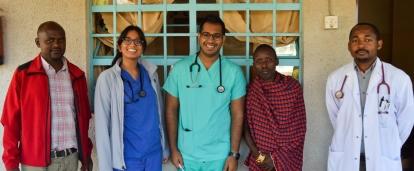 Medicine Internship in Tanzania
See this project
Price:

£1,600 for 2 weeks

Extra Weeks:

£230

Start Date:

Anytime

Minimum Duration:

2 weeks

Age:

16 or over
Giant Tortoise & Sea Lion Conservation in the Galapagos Islands
See this project
Price:

£1,645 for 1 week

Extra Weeks:

£280

Start Date:

Anytime

Minimum Duration:

1 week

Age:

16 or over
Load More
How do I get international work experience?
Getting international work experience with Projects Abroad is as easy as counting 1, 2, 3!
Our work placements abroad are open to anyone over the age of 16. Most programmes have very few requirements. We can also tailor a project to your level of experience, so you'll be comfortable with the work you're doing.
We're a great fit for you if you want to:
Explore an area of interest before university, like Human Rights or Medicine
Do a work experience placement abroad for students during university to enhance your studies
Do something different and challenging yourself during a career break
Enjoy a working holiday abroad and do something different during your time off
Once you've checked that you meet the requirements for a project, you can apply online to secure your place. Our Project Experts are here if you need help deciding which project will be best for your international career development.
Equipped with my own media pass, I weave in between the anxious crowd to take a closer look at the proceedings. Reuters and BBC correspondents stand to my left and European Union observers loiter to my right. It's an international stage and I'm lucky enough to be in the audience! - Elise B, Journalism in Ghana
Summer Work Experience Abroad
Eager to work abroad for the summer and use your holiday to focus on career development? We have a wide range of options available throughout the summer months of June, July, and August:
Flexi Trips allow you to choose your own dates and work more independently
High School Specials are ideal for younger students ages 15-18 looking for international work experience
Team Trips cater to university students interested in a more organised group experience
See a full list of the types of trips we offer.
As an aspiring surgeon, I was bound to be excited by a surgery workshop, so when we were each handed our own dead chicken and taught several different stitches to use on them, I loved it. But everyone enjoyed the workshop - not just the surgeons! - Joy I, Medicine High School Special in Tanzania
Advantages of Work Experience
Getting work experience abroad can help you hit the ground running when you start out in your career, or help you branch out into a new field.
What we offer is real work experience. You'll contribute to your placement, and actively learn from the professionals you're working with. This is invaluable if you're working in an area you want to explore as a potential career, or expanding your skill set within a field you already work in.
We don't just stop at work experience. Our goal is to help you discover what you're capable of. Adjusting to working in a different culture and environment is challenging, but it will help you grow as a person. Better yet, our trained local staff will be there to support you whenever you need it and keep you safe.
This year could see you helping disadvantaged entrepreneurs launch small businesses in Tanzania. If this makes your heart beat faster in anticipation, then take the leap and join Projects Abroad today for the ultimate work experience placement!
While volunteering in Ghana, I learned many skills that will help me with my future medical career. I was taught how to perform HIV and syphilis tests, CD4 counts, treat wounds, and to collect blood samples. - Deanna K, HIV/AIDS Project in Ghana