At a glance
Join our Nursing internship in Tanzania and gain medical experience in a vibrant African country. Shadowing doctors and nurses, you'll learn first-hand their day to day working life.
Rotate through different hospital departments and learn basic medical skills under supervision. Specifically you'll learn you how to diagnose and treat different diseases.
You'll be based in Arusha. During your free time, you can explore the beauty of Tanzania, from the sparkling depths of Lake Victoria to the heights of Mount Kilimanjaro.
Is the Nursing internship in Tanzania right for me?
Looking to gain practical experience before your nursing career? This internship is perfect to learn about working in a hospital before applying to nursing school. You'll get the chance to shadow professional doctors and nurses, enhancing your medical knowledge and improving your CV.
If you're a nursing student, this is also a great opportunity for you to get practical experience and build your confidence before you graduate.
If you're not sure whether a career in nursing is for you, join this project to get a glimpse into the daily life of a nurse in Tanzania. You'll go back home with a clearer idea of nursing work and a broader knowledge of medicine in general.
This internship runs all year round, so you can join at any time. The minimum duration is two weeks, but you can stay as long as you'd like after that.
What will I do on this Nursing internship?
Under the guidance of your project supervisor, you'll gain nursing work experience in Tanzania, as you spend your days in local hospitals and health clinics. You'll learn about many different aspects of medicine and:
Shadow professional nurses and doctors during ward rounds and consultations
Spend time in different hospital departments
Attend medical lectures or workshops
Get hands-on experience while helping people at medical outreaches
Your work will focus on both learning and helping provide better medical care:
Learn from doctors and nurses
You'll shadow doctors and nurses from different departments and get to know what life is like as a nurse in Tanzania. You'll sit in on consultations and see how nurses cope when supplies run low.
You can rotate between different departments or choose the department that interests you most. So you can gain as broad or as focused a learning experience as you'd like. The number of departments you intern in will also depend on how long your internship is. We recommend staying in each department for at least a week.
Medical workshops
During workshops and lectures, you'll gain practical skills, learning to measure blood pressure and blood sugar, or give injections. You'll also learn about how to diagnose and treat tropical diseases like malaria.
Help local people at outreaches
Outreaches are another opportunity for learning. In the process, you'll provide basic medical care to local people. During outreaches, you'll go out into Maasai communities with doctors and nurses. You will assist them with screening for problems like diabetes and high blood pressure, by taking measures like blood sugar, blood pressure, and weight.
Types of Nursing placements in Tanzania
You'll have the chance to rotate between different departments to learn about different areas of medicine. If there's a department you particularly enjoy, you can spend most of your time there. The different departments include:
Surgery
Maternity
General medicine
Paediatrics
Palliative care
The number of departments you can work in will depend on how long your internship is. We recommend staying in each department for at least a week. If you're interested in a specific department, feel free to contact us and we can help advise you.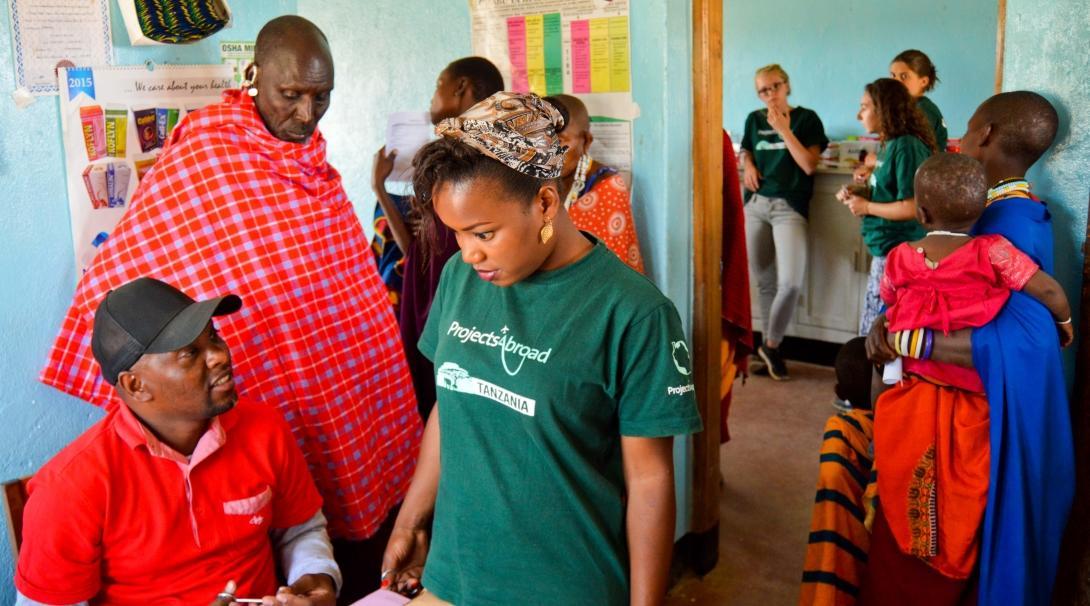 Where in Tanzania will I work?
Arusha
Arusha is a city located at the foot of Mount Mera and bordered by the Great Rift Valley. You'll work in a large government hospital if you're a nursing student, or a smaller health clinic if you're a pre-med. You'll also go out into remote communities once every two weeks to run medical outreaches.
There's plenty to do during your free time in Arusha. Over the weekend, you can take a trip to the white-sand beaches of Zanzibar or visit the National Natural History Museum. Arusha is famous for its buzzing nightlife. You can spend your evenings at local bars and restaurants, sampling Tanzanian cuisine and swaying to the music of a live band.
A typical day on the Nursing internship in Tanzania
You'll wake up and enjoy a hearty meal with your host family, before grabbing your white coat and catching a dalla dalla to your placement hospital or clinic.
On a typical day, you'll arrive at work by about 8.00am and leave at 4.00pm. Project work runs from Monday to Friday and you have the weekends free.
You'll usually spend your mornings shadowing skilled doctors and nurses. Join them during consultations to see first-hand how they diagnose and treat patients.
You can spend time doing ward rounds and watch nurses taking health measures. You'll also have the opportunity to ask questions and find out more about what working as a nurse is like. Depending on how long your internship is, you can visit various departments to learn more about specialisations.
Your evenings will be free, giving you the chance to explore Tanzania. You can visit local markets, enjoy a delicious home-cooked meal with your host family, or spend time chatting to Projects Abroad interns.
What are the aims and impact of this internship?
The main aim of this internship is to promote knowledge sharing. You will learn from qualified doctors and nurses about how healthcare is practised in a developing country. You'll also be able to learn about healthcare systems in other countries from the other interns. Ultimately, you'll leave with a well-rounded knowledge of how the medical field works in a developing country.
You'll help with providing early screening to people who don't have easy access to medical facilities. They might not have transport or funds to go to hospitals. Medical outreaches provide basic medical care to these people. You'll measure their blood pressure, blood sugar, height, and weight. This data will assist doctors and nurses with making referrals.
We have five main goals for our Nursing Project in Tanzania. The goals in our Medicine Management Plan are:
Improve access to basic healthcare for disadvantaged groups
Promote awareness of non-communicable diseases
Improve hygiene standards
Improve the quality of healthcare provided to patients
Encourage an understanding of medical practices and promote an exchange of medical knowledge
Join this internship and help us work towards achieving these goals.
Medical electives for students
This project is also perfect for university medical and healthcare elective students. The real-world insight and knowledge you gain will help shape you as a future medical professional. You will also learn to work with different people and get a broader perspective of global healthcare systems and issues. This benefits your career for years to come. We can organise a placement that meets all of your university's requirements.
Management plans
We set out the aims and objectives of our projects in documents called Management Plans. We use them to properly plan the work you'll do. They also help us measure and evaluate our achievements and impact each year.
Ultimately, our Management Plans help us make our projects better. This in turn means you get to be part of something that makes a real impact where it's needed. Read more about our Management Plans.
Measuring our impact
Our projects work towards clear long-term goals, with specific annual objectives. Every volunteer and intern we send to these projects helps us work towards these goals, no matter how long they spend on our projects.
Every year we take a step back and look at how much progress we've made towards these goals. We put together a Global Impact Report, which documents our achievements. Find out more about the impact our global community of volunteers, interns and staff make, and read the latest report.
Food and accommodation
You'll stay with a host family in Arusha. They will welcome you into their home, eager to share their customs and have you teach them about your own culture. We believe that this is the best way to immerse yourself in the culture of Tanzania and have a truly unique experience.
We will always try to let you live alongside at least one other Projects Abroad volunteer or intern at the same host family. Your room will be modest, but comfortable, clean, and safe.
Your programme fee includes three meals a day.
Find out more about our accommodation.
Leisure activities and free time
A trip to Tanzania is the chance to experience life in the heart of Africa. There's plenty to see and do here during your free time on your project.
A project in Tanzania wouldn't be complete without a safari! This is a chance to see the beautiful wildlife of this country, like elephants, rhinos, and lions.
What's more, Tanzania is home to the highest mountain in Africa, Mount Kilimanjaro. Hiking around the base through lush vegetation is a peaceful way to spend an afternoon.
Browsing through a vibrant, local market is a must while you're there. You can also spend time in a Maasai village, getting to know a completely different way of life.
There will likely be many other volunteers in Tanzania with you. This means you have the option to explore the country independently or with a group of like-minded volunteers from different projects.
Safety and staff support
Your safety and security is our prime concern. We have many procedures and systems to ensure you have the support you need to enjoy your trip with peace of mind. Our Projects Abroad staff are available 24 hours a day to help, and will be on-hand to make sure you settle in well at your accommodation and placement. If you encounter any problems, they will be available to help at any time.
Find out more about safety and backup.
This placement is fully researched, safety audited, and risk assessed in accordance with the British Standard BS8848 for the Adventure Travel Sector.
Meet the team in Tanzania
Not quite what you're looking for?
Take a look at the following pages where you'll find collections of similar projects: