With Projects Abroad, you can volunteer at any age, and we have a wealth of experience organising voluntary work abroad for over 50s. Through our projects, you can use your skills, knowledge, and life experience to make a real difference in developing countries.
This is what you can expect from our volunteer abroad opportunities for over 50s:
For volunteers abroad over 50, we recommend our Flexi Trips, where you work more independently, but still have the support of our staff. These trips run year-round, and you can join when you want. Interested in hearing more about the kinds of Flexi Trips we offer? Read our popular article featuring our best volunteer abroad programmes for older adults.
Interested in short-term overseas voluntary work for over 50s with a group? Then our Grown-up Specials are for you. You'll work with a group your own age to accomplish a goal in a short period of time, and you'll arrive and leave at the same time.
The Galapagos Islands sit at the top of most must-visit travel destinations. It's incredibly diverse but many animals and plants are endangered. Watch our video to get a glimpse of the type of work you could do as an over 50s volunteer to protect biodiversity in Ecuador.
Choose a Volunteer Project
1-3 of 142 Projects
Volunteer with Children in Nepal
See this project
Price:

£1,175 for 2 weeks

Extra Weeks:

£180

Start Date:

Anytime

Minimum Duration:

2 weeks

Age:

16 or over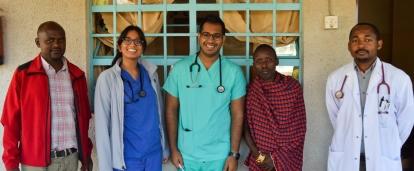 Medicine Internship in Tanzania
See this project
Price:

£1,600 for 2 weeks

Extra Weeks:

£230

Start Date:

Anytime

Minimum Duration:

2 weeks

Age:

16 or over
Giant Tortoise & Sea Lion Conservation in the Galapagos Islands
See this project
Price:

£1,645 for 1 week

Extra Weeks:

£280

Start Date:

Anytime

Minimum Duration:

1 week

Age:

16 or over
Load More
Volunteering for Retired Professionals
Our voluntary work abroad for over 50s offers a variety of projects that are a great fit for retirees looking for a new purpose, and older professionals interested in a career break. Remember, it's never too late to take a gap year!
We also tailor your project to maximise the impact of your expertise and experience on the ground. Over 50s volunteering abroad can make a huge impact, even on short term volunteer placements.
While we have a wide range of professionals who volunteer overseas with us, these are the most common professions:
Doctors
Nurses
Physiotherapists
Dentists
Lawyers, Attorneys, Advocates, and Human Rights Professionals
Vets
Business Professionals and Consultants
Is your profession not on the list? Not to worry! Our Project Experts are here to help you find a project that matches your skill set or passions. Read more about our approach to professional volunteering abroad.
Volunteer Abroad Opportunities for Seniors
We don't believe that age should hold you back from volunteering abroad. Many of our projects are perfectly suited for volunteer work abroad for over 60s, and you can use your skills to help or realise your potential in a completely new field.
As someone doing voluntary work for over 60s, you don't need previous experience to join most of our projects, unless you're looking to volunteer in a professional capacity. We'll teach you everything you need to know, and you'll have the support of colleagues at your placement. We'll be there to provide support for culture shock and to ensure your safety for the duration of your volunteer programme.
Read our article to learn more about volunteering during your retirement.
In finishing, whilst I was the oldest one in both my placements, I not once felt out of place and thoroughly enjoyed my time with the younger volunteers, often taking on the natural parental role; we had amazing times working and socialising together. So if you are in your prime like me, and looking for a rewarding memorable time away, I can highly recommend volunteering with Projects Abroad, both on a professional and personal level…enjoy! - Sharon M, HIV/AIDS Project in Nepal
What's included in my project?
We can take care of planning the details before and during your trip thanks to our hassle-free approach. All you need to do is focus on what's important: using your time, energy, and skills to actively make a difference.
On our over 50 volunteer travel placements, you don't need to worry about:
Organising your placement
Getting picked up and dropped off at the airport in-country
The cost of travelling to your placement in-country
We also provide visa advice and we can take all the stress out of booking flights. If you book flights through us, we'll always book changeable tickets to your destination, with the shortest and most convenient layovers.
Where can older adults volunteer?
Our Grown-Up Specials are designed for over 50s looking to volunteer. We offer a range of projects and destinations, so you can find the ideal over 50 volunteer travel opportunity for you. This can be a break from your career or even a way to enhance it. Alternatively, it can be a meaningful and exciting way to spend your retirement.
Choose from the following volunteer projects for over 50s:
Choosing one of these three overseas volunteering programmes means you'll be placed with other volunteers over 50.
However, you can also choose to work on a Flexi Trip, along with volunteers of all ages. These are located across Africa, Asia, Latin America and the South Pacific. With so many opportunities for over 50s to volunteer abroad, have a browse and find the ideal volunteer opportunity for you.
For me, the fortnight in Nepal was life-changing. I certainly feel that I gained far more than I gave, both in terms of what the trip cost me financially and the challenge of some of the volunteer work we did. Apart from making some great new friends, with whom I am still in touch, it renewed my sense of optimism that we can all do something positive to help others. - Judith W, Childcare & Community Grown-up Special in Nepal
How can I volunteer abroad?
As an older person with plenty to offer, you'll find it easy to volunteer with us. We believe in accessibility and have opened our volunteer projects for over 50s to as many people as possible.
For our over 50s volunteer placements known as Grown-Up Specials, you only have to be over 50 (obviously!) - just fill in the application form and we'll help get you onto your dream volunteering adventure.
Don't feel limited, however. You can also choose to volunteer among people of all ages on one of our many Flexi Trips. Each volunteer project has its own requirements, so check you meet them before you apply.
Worried about volunteering abroad as someone over 50? We don't believe that travel is just for young people and have ensured our trips are suitable for all ages. That's why we have volunteers ranging from young children to their elderly relatives. Read this story of a grandmother-granddaughter volunteer experience for inspiration.
Can't find what you're looking for?
We'd be happy to talk about creating a custom project for you. Most of our staff have been volunteers themselves, so they're well placed to answer your questions, big or small.
01273 007 230
or
Get in Touch
to start planning your project