Retirement can be one of the most wonderful times of your life, but deciding what to do during retirement can be difficult. Many retirees choose to start a new hobby or take the time to help out with their loved ones. Others give back to the community and get involved in local projects that offer voluntary work for pensioners.
But you may be wondering, "why should seniors volunteer?". Well, let's take you through a handful of the top reasons:
#1 Provides a sense of purpose
Helping others is a rewarding experience. Keeping busy and working towards something gives you a sense of purpose and accomplishment.
#2 Encourages social interaction
By spending less time at home and more time in your community, you'll get to interact with like-minded people on the regular. You might even make new friends and increase your support circle.
#3 Good for mental and physical health
According to the National Institute on Aging, participating in meaningful activities that keep the body and mind active can lower the risk of health issues like dementia and improve longevity.
#4 Helps bridge the generation gap
Seniors and younger generations rarely have the opportunity to work together. By working together, you can learn and develop a better understanding of one another.
As well as volunteering, travel is also a high priority on many retiree's bucket lists. By volunteering abroad, you can find meaning and purpose in your retirement whilst exploring a new country. Participating in volunteer work abroad for over 60s gives you the opportunity to utilise your professional skills for good, pursue forgotten passions and contribute to long-lasting positive change. This is why we think volunteering abroad should be at the top of your retirement wish list.
"Our older volunteers find a sense of purpose in their contributions. They are willing to share a part of what they know to make a difference in the lives of the community and the people that they meet on their project. But the exchange usually surpasses their expectation as they get to experience different food, cultures and sentiments of what life is like on the other side of the world."

- Thami Bhakanava, Volunteer Advisor
We offer diverse voluntary work for newly retired adults in some stunning locations! Some of our projects are specifically designed for over 50's, where we take the stress out of travelling abroad so you can focus on what's important. You can take part in any project from conservation and community work in Ecuador to childcare in Nepal.
"At the age of 69, I decided that it was now or never. If I wanted to see and experience a bit of the world. I could have gone on an organised tourist trip somewhere but that did not seem to fit the bill. (...) what I really wanted was to experience and feel the country. With that in mind, I decided to explore the possibility of voluntary work and that led me to Projects Abroad."
Still, have questions about volunteer vacations for seniors? We've answered six commonly asked questions to help you better understand what to expect from your volunteer experience.
Will I be the only older volunteer?
At Projects Abroad, we offer Grown-up Specials designed for over 50's volunteering overseas. This is a great option if you want to surround yourself with volunteers of a similar age. Whether you want to learn a new skill or share your expertise, these tailor-made trips allow you to make a positive impact on local communities whilst meeting like-minded people.
Alternatively, if you are open to working more independently, you can join one of our Flexi Trips. These trips run all year-round and allow you to volunteer alongside people of all ages, backgrounds and nationalities.
Do I need to have prior volunteer experience?
No prior volunteer experience is needed to join our projects. This includes voluntary work for pensioners. Part of the adventure of volunteering overseas involves experiencing things for the first time. Many of our volunteers, regardless of age, join us having never done anything like this before. We'll teach you everything you need to know and you'll have the full support of our in-country staff during your stay.
Do I need to be physically fit?
Age shouldn't hold you back from becoming a volunteer overseas. Almost all of our projects can be adapted to different fitness levels and abilities. We take your health and safety seriously and ensure 24/7 support from our trained local staff.
If you have any concerns about fitness levels or health and safety, please don't hesitate to get in touch. Our Project Experts are available to guide you every step of the way and can notify our in-country staff of any specific requirements.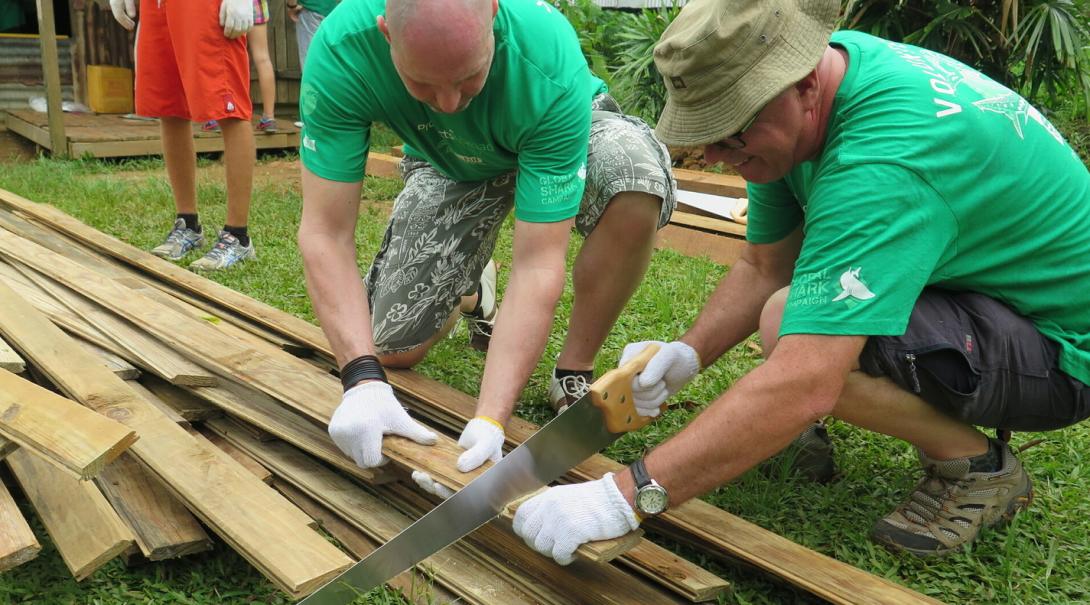 Can I utilise my professional experience?
If you're qualified in a specific area and interested in using your expertise abroad, we'd love to utilise your skills on our projects. Volunteering for retired professionals is a great way to use your professional know-how and can aid in ensuring the success and sustainability of our projects. We have trips available for:
Health professionals: doctors, nurses, physiotherapists and dentists
Lawyers, attorneys, advocates, and human rights professionals
Vets
Business professionals and consultants
Feel free to contact us if you are unable to find a project that immediately fits your skill-set. We'll be happy to point you in the right direction.
Are there specific language requirements?
If you speak English, you are already qualified to join most of our volunteer projects. English is widely spoken in most of the countries we work in and all our in-country staff speak both English and the local language. However, there are a few exceptions as we have language requirements in our French and Spanish speaking countries.
However, learning a new language is one of the things you can do during retirement. And what better way to learn than in the country where it is most commonly spoken? We have many Language Courses for you to take a look at. French, Mandarin, Spanish? What's your preference?
Our Project Experts are available to advise you on volunteer work abroad for over 60s and ensure the language barrier won't be a problem while you are away.
What will the accommodation be like?
When you volunteer with us, we arrange safe, secure and comfortable accommodation for you as part of your project fee. At many of our projects, you'll stay with a host family. Living with a host family will enable you to gain a deeper understanding of the local culture, food and traditions. You'll get to experience more as a volunteer abroad, instead of just a typical vacation for seniors. All of our host families live in safe neighbourhoods and are closely screened before being selected.
In certain countries, we offer shared volunteer accommodation and occasionally the option of hotels or guesthouses. If you have any special requests, such as your own room, please let us know and we'll do our best to make you feel as comfortable as possible during your time away.
Want to join one of our Grown-Up Specials?
Contact us to get started!
Want to know more about our projects for volunteers over 50?
Get in touch with our Project Experts. They'll be happy to answer any questions you may have.
01273 007 230
Get in Touch