Picture this: you're gently swaying underwater in Fiji as you scuba dive with sharks. Imagine surfing a wave as a young South African child successfully surfs a wave for the first time alongside you. This is just a snapshot of what you can do with Projects Abroad as a you combine volunteering with an adventure holiday.
On any one of our projects, there's plenty of opportunity for adventure holidays. And at the same time, you'll be helping to create positive change in the world. You'll work toward long-term, sustainable solutions, not quick fixes. By your side, you'll have our dedicated in-country staff to support you 24/7.
Our projects run throughout the year, so adventure travel is around the corner whenever you're looking for it. We offer long and short-term adventure holidays. You can travel independently on a Flexi Trip or work with a group on a Team Trip. Or, embark on a family adventure holiday, and enjoy an unparalleled bonding experience!
Choose an Adventure Trip
1-3 of 36 Projects
Featured
Africa's Big 5 and Wilderness Conservation in Botswana
See this project
Completely flexible dates
Anyone aged 16 or over can join
From 1 week
From £1,795
Featured
Giraffe & Lion Conservation in Kenya
See this project
Completely flexible dates
Anyone aged 16 or over can join
From 1 week
From £1,645
Featured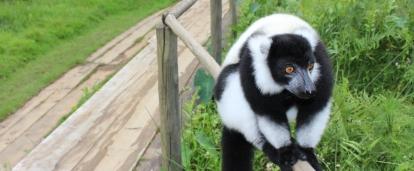 Lemur Research and Protection in Madagascar
See this project
Completely flexible dates
Anyone aged 16 or over can join
From 1 week
From £1,795
Load More
Can't find what you're looking for?
We'd be happy to talk about creating a custom adventure holiday for you. Most of our staff have been volunteers themselves, so they're well placed to answer your questions, big or small.
01273 007 230
or email:
to start planning your project
Where can I go on an adventure holiday abroad?
We work in developing countries around the world, from Africa to Asia. So, you can go on an adventurous holiday pretty much anywhere with us. While you experience adventure, you'll be focused on supporting local communities. You'll find the experience isn't just an adventure. It's an opportunity to discover what you're capable of.
Here are some of our favourite adventure trips for volunteers:
Dive with sharks on our Conservation Project in Fiji
Complete your PADI Open Water dive course and then work with passionate scientists and shark experts. You'll help collect data on the sharks you see during dives and you'll learn how to identify sharks by their markings. You'll also work on land and focus on planting mangroves and doing awareness work in the community.
Surf on a Sports Project in South Africa
Learn how to surf and mentor children from disadvantaged backgrounds on the beautiful beaches of Muizenberg, based in Cape Town. You'll teach children how to swim and surf, all while having fun under the South African sun.
Trek Machu Picchu on our Archaeology Project in Peru
Marvel at the ruins of the ancient Incan empire while assisting archaeologists at our Incan & Wari Archaeology Project. You'll dig up artefacts and learn how to document and analyse them. This is a fantastic opportunity to do something different while on an adventure holiday.
Trek the Himalayas while volunteering in Nepal
Nepal is an ideal destination for adventure lovers! Many volunteers choose to trek the beautiful Himalayas on completion of their placement. You can work with children, assist on our Himalayan Mountain Conservation Project, or help rebuild schools that were lost to earthquakes.
Climb Kilimanjaro when volunteering in Tanzania
Summit Africa's highest peak when volunteering on a project in Tanzania. You have the chance to work at a number of placements. You can do childcare work, put your strength into building a school, or learn directly from doctors at hospitals.
Group Adventure Holidays
Keen to share the adventure with a group of friends or your family? We're more than happy to chat about the possibilities for group adventure holidays with you.
With our customised group trips, we'll design a programme to fit your group's exact requirements and goals. Our expert local staff can adjust activities according to ages, needs, and abilities, so everyone will be included. We're also committed to providing you with a hassle-free experience, with no hidden fees. We provide:
Visa advice
Accommodation
Three meals a day
All project activities
Airport pick-ups and drop-offs
Ground transportation to and from your project
Medical and travel insurance
An itinerary packed with exciting leisure, cultural, and adventure activities
We'll focus on the nitty-gritty aspects of travel while you focus on what's important: helping to make a positive change in the world while having the adventure of a lifetime.