Teach English in Africa and support children's education in rural areas. You'll impact the lives of children by volunteering to teach in Africa and supporting the work of local teachers.
You don't have to be a teacher to volunteer abroad on our Teaching Projects. You don't even need a TEFL qualification. You'll work alongside qualified local teachers and we'll teach you all you need to know. We also run regular workshops for all Teaching volunteers, where you can get advice, learn new classroom management techniques, and exchange ideas.
Volunteering as a teacher in Africa gives you the opportunity to realise your potential. You'll improve your teaching skills and discover what you're capable of. You'll also use travel to bring about positive change in the communities you live in. You'll do this whether you're teaching English or another subject like Physical Education or IT.
Watch the video below to find out what it's like to be a volunteer teacher in an African country.
Choose a Teaching Project in Africa
1-3 of 5 Projects
Volunteer Teaching English in Ghana
See this project
Completely flexible dates
Anyone aged 16 or over can join
From 2 weeks
From £1,340
Volunteer Teaching in Kenya
See this project
Completely flexible dates
Anyone aged 16 or over can join
From 1 week
From £1,270
Volunteer Teaching English in Tanzania
See this project
Completely flexible dates
Anyone aged 16 or over can join
From 1 week
From £1,270
Load More
Can't find what you're looking for?
We'd be happy to talk about creating a custom project for you. Most of our staff have been volunteers themselves, so they're well placed to answer your questions, big or small.
01273 007 230
or
Get in Touch
to start planning your project
What Will Teaching in Africa as a Volunteer Be Like?
Schools in Africa can be understaffed and poorly resourced, but you can help improve this situation by volunteering as a teacher.
Often you'll find the only tools you have are a blackboard and chalk. This can be both challenging and exciting, as you have the freedom to use your creativity and think outside the box. You may find that the greatest tool for effective learning is yourself. The students will want to find out about you and the country you come from. They'll want to know why you have chosen to come and teach them.
The number of lessons per week that you'll teach depends on the country and individual school. In some countries, you'll be expected to be at school all day, teaching two or three classes. In other cases, you'll just teach in the morning. You'll also need to take time to prepare your lessons and you may often be asked to mark students' work. Many volunteers choose to help out in other areas too, such as taking students for sports, drama, or music lessons.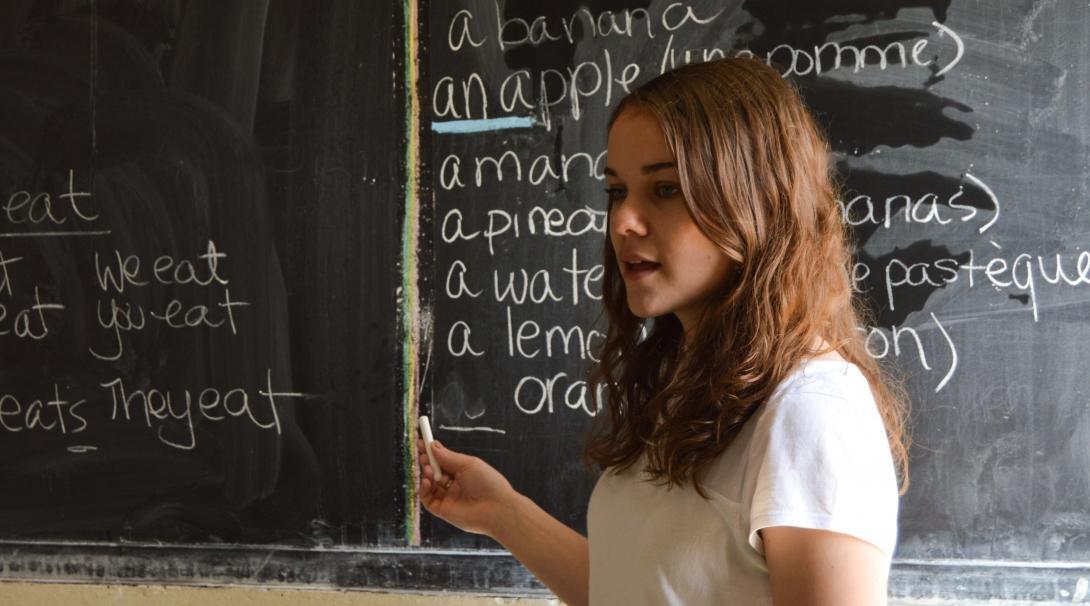 What Subjects Can I Teach as a Volunteer in Africa?
We have a range of teaching placements across Africa. You can teach younger students or do volunteer work in a high school. Whichever age-range you teach, you'll become part of long-term efforts to implement sustainable solutions. You'll do this with guidance from our Teaching Management Plans.
In Africa, volunteers can teach:
English
French
Physical Education
IT
As a volunteer teacher, you may also have the chance to teach:
Where Can I Volunteer to Teach in Africa?
We offer volunteer teaching programmes across Africa, including in:
Wherever you end up, use your time as a teaching volunteer to discover what you're capable of and improve the lives of children.