My name is Roisin Kane and I am from Scotland. I am in my final year of high school and wanted to do something different during my summer. So, I decided to volunteer on the Public Health Short-term Special in Jamaica. The application process was fairly straight forward and around a week later, I received an email saying I was accepted. I was so excited! I chose Jamaica as it seemed like a beautiful and fun place. It didn't disappoint.
Leading up to my project, I decided that I was going to fundraise to pay for the cost, so I ran bingo nights, raffles and a Snowball dance in my local village, and managed to raise the money. I was becoming more and more excited as it grew closer.
Arriving in Jamaica
This was my first time flying alone, and I was quite nervous as I had to get two flights, but once I got through the airports and onto the plane I was fine again. My journey was quite long, so once I arrived in Jamaica, I was pretty tired. My Projects Abroad driver welcomed me to the country and then we waited for another volunteer to arrive. Everyone around me were very friendly and welcoming, I was beginning to love Jamaica already!
Once the other volunteer arrived, we left the airport for the three-hour journey, through windy roads, full of huge potholes! Our driver told us loads about the country and played lots of Jamaican music.
My host family
During my two weeks in Jamaica, I was staying with the Glandvilles, who were such friendly and welcoming people. There were five other girls staying there too, from all around the world. We all got on really well and would sit on the balcony talking at night. Mrs Glandville would always make lovely meals for us all. We tried many different foods, such as rice and peas, breadfruit and jerk chicken. Everything tasted so nice. She made the best pancakes too, we would have them for breakfast and they always tasted so good!
My Public Health programme
My project was Public Health, which meant I was mainly based around the community. There were two of us on this project, myself and another boy. To begin with, we were taught about some health issues, such as diabetes and hypertension, and we then got taught how to take vital health checks, such as checking blood sugar levels, blood pressure and pulse. We also received first aid training from the Red Cross in Jamaica, which was really enjoyable.
On two of the days, we visited the Manchester Infirmary, where we took the vitals of all the patients. This was beneficial as the infirmary didn't have access to much equipment and many of the patients are not able to get their vitals checked regularly. The nurses at the infirmary were very appreciative of our work.
We also helped to run three other health fairs around the communities, with other volunteers. At these fairs, we offered vital health checks and medicals to the public. Government healthcare isn't as accessible in Jamaica compared to developed countries and private health care is too expensive for most Jamaicans. Therefore, this was a very valuable service we provided, especially in rural areas, and it was greatly valued by the public. Our work within the community was also recognised by the Jamaican Ministry of Health, who thanked us for the work we were doing. This was a great feeling, as we knew we were actively making a difference.
We also spent time in the Percy Junior hospital, where we were able to see the different departments and spend time in a few. Due to us being unqualified, we weren't able to do much, but we helped out in the wards by helping to make swabs and playing with the children.
During the week, we also went out early in the morning and walked around the community giving food to homeless. Knowing that we were able to provide food for these people was a very fulfilling and meaningful experience.
Weekend activities in Jamaica
At the weekend, we were out on the Saturday and Sunday. On Saturday, we visited Ocho Rios beach, where we spent the day sunbathing or swimming. The beach was so nice; the weather was so sunny too! We then went to the craft market and bought lots of unique Jamaican gifts. On Sunday, we went to YS Falls, this was amazing! We spent the day relaxing by the lovely pool and exploring the falls. The falls were so beautiful! We got our pictures taken and then as we went up further there was a rope swing which you could jump into the falls, it was so much fun. I jumped so many times, it was such an unreal feeling!
During the weekdays, there was organised social events, these included karaoke, cooking classes, DIY workshops and reggae dancing. These were good fun as we were able to spend time with the other volunteers and learn a lot about the Jamaican culture. The cooking class was good as we got to try ackee and saltfish, Jamaica's national dish. During the reggae dancing we learned lots of new and old reggae dances.
The overall experience was amazing and an extremely valuable one. I learned lots about a new country and culture and made many great memories! My host family were so friendly and made me feel right at home. The Projects Abroad staff were also so friendly and were always happy to help if you had any issues or worries.
I feel I have grown as a person after this experience, as I had time to work on my communication skills, teamwork and my confidence. I would 100% recommend volunteering with Projects Abroad, especially in Jamaica! The experience was one which I will never forget. Thank you so much for everything!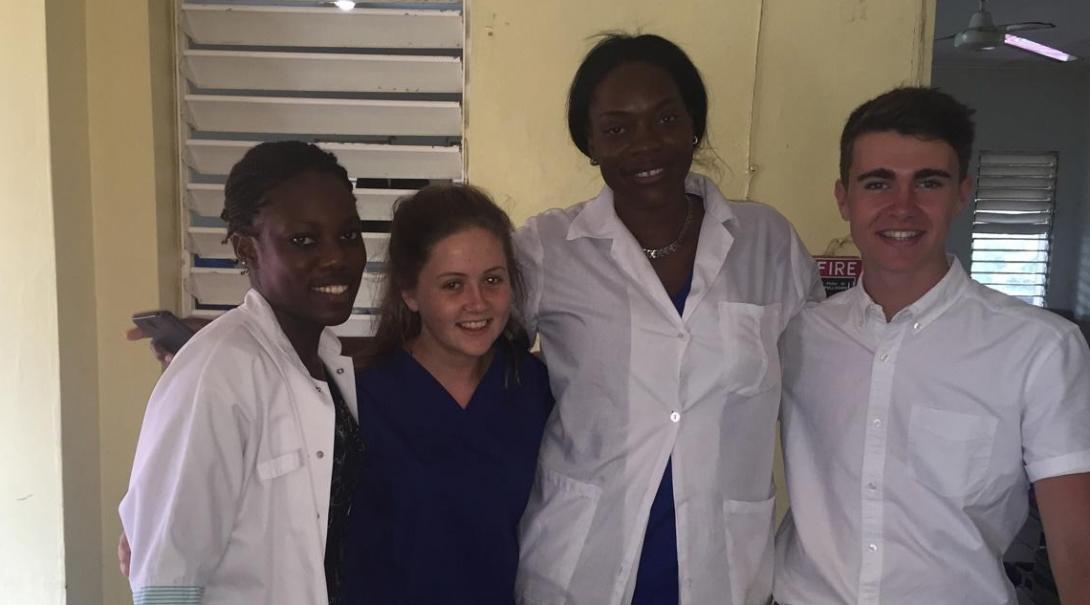 Are you interested in joining this project?
If so, one of our experts can help.
Contact Us on:
01273 007 230
This is a personal account of one volunteer's experience on the project and is a snapshot in time. Your experience may be different, as our projects are constantly adapting to local needs and building on accomplishments. Seasonal weather changes can also have a big impact. To find out more about what you can expect from this project we encourage you to speak to one of our friendly staff.