Get the experience you need to drive your career forward after years of hitting the books on our work placements abroad for graduates.
On our opportunities for graduates, you can:
Add relevant, hands-on work experience to your CV
Learn directly from professionals, who also supervise your work
Put your studies and knowledge to practice in real-world settings
Conduct in-depth research for postgraduate studies
Hone critical soft skills like communication, planning, and problem-solving
Our opportunities abroad for recent graduates are safe, flexible, and hassle-free - the Projects Abroad guarantee. Your project can be tailored to your exact requirements, and we work with you to ensure you get everything you need out of the experience and boost your employability. Furthermore, your project can help you stand out from the crowd during job applications and interviews, and we can provide you with reference letters when you return home.
"Towards the end of my internship, I had more clarity about the direction I wished to take with my career. While I still had a love for law, I realised that the type of jobs on offer at law firms in the UK were not in the areas of law I was interested in and that I would be happier pursuing something I was passionate about. I came across a six month contractual position in digital marketing and business strategy which had become available at the Shanghai office of a UK multinational company and, on a whim and with a reference from Sloma & Co., decided to apply. After two interviews, I was offered the position and took my second leap of faith and accepted almost instantly!" Sinead C, Law in China
Choose a Project
1-3 of 139 Projects
Volunteer with Children in Nepal
See this project
Price:

£1,175 for 2 weeks

Extra Weeks:

£180

Start Date:

Anytime

Minimum Duration:

2 weeks

Age:

16 or over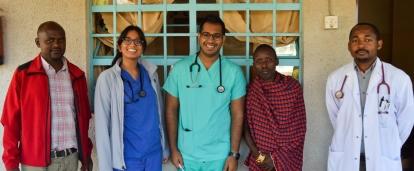 Medicine Internship in Tanzania
See this project
Price:

£1,600 for 2 weeks

Extra Weeks:

£230

Start Date:

Anytime

Minimum Duration:

2 weeks

Age:

16 or over
Giant Tortoise & Sea Lion Conservation in the Galapagos Islands
See this project
Price:

£1,645 for 1 week

Extra Weeks:

£280

Start Date:

Anytime

Minimum Duration:

1 week

Age:

16 or over
Load More
Graduate Internships Abroad: What can I do?
Our internships are ideal for anyone looking for graduate internships. No matter which project you choose, you can expect a combination of:
Hands-on work experience
Real-world situations where you can test your skills
Guidance from a professional supervisor
Travel
Here are some of our most popular postgraduate internships:
Read a full list of our internships abroad.
Graduate work abroad gives you space to challenge yourself and do something entirely different outside of university. Interested in actively helping people improve their health and manage illnesses like diabetes? Pull on a pair of gloves and start participating in basic medical checks in the Philippines!
Who knows, our work placements abroad for graduates could lead you down a new and exciting career path!
"Having spent many years studying, I was looking for some hands-on experience in the field and thought combining this experience with travelling would be a great way to celebrate my graduation." Sarah S, Nutrition in Fiji
Volunteer Abroad after University: What can I do?
As a volunteer abroad after university, you can use your time and energy to make a real difference.
All of our projects are built around achieving long-term goals guided by the United Nations Sustainable Development Goals (UN SDGs). We champion Responsible Volunteer Travel and have policies guiding our work, so you can rest assured you're part of an ethical experience.
Here are several of our most popular opportunities for graduate work abroad:
Volunteering after university can take your CV to new heights. The wealth of global experience and skills you gain, together with proving your adaptability and willingness to help others, is invaluable.
"As a recently graduated Marine Biologist, and someone who is passionate about marine conservation, I decided to join the Shark Conservation Project in Fiji to do my bit to help save sharks." Mark M, Shark Conservation in Fiji
Summer Programs for Recent College Graduates
Is your heart set on going abroad after graduating in May? All of our volunteer projects and internships run in June, July, and August (better still, they run year round!) so you can easily fit in a trip before you enter the working world.
You choose your own dates on a Flexi Trip, so you can decide how long you want to travel. No matter what else you fill your summer with - from filling in job applications to interviews - a Projects Abroad trip can fit.
Need more help?
Need more information on what kind of work you will do day-to-day? Our Project Experts are available to answer any questions you have about our projects:
01273 007 230
or
Get in Touch
to start planning your project