At a glance
Work with local staff to provide support to children with speech and language impairments.
You'll gain practical experience by assisting with or running therapy sessions at rehabilitation centres for people with disabilities.
Help to ensure patients, who are unable to access specialised care due to limited facilities or funding, receive the treatment that they need.
16 or over
You should have completed at least two years of speech therapy related studies or training.
Is a Speech Therapy internship in Vietnam right for me?
Are you a speech therapy student or graduate? Looking to gain practical experience in a country different from your own? Want to enhance your CV with a unique, altruistic work placement? If you answered yes, then this internship is ideal for you.
You will have the chance to help people while putting your knowledge into practice and preparing for your future career in the field. You'll gain insight into speech therapy practices in Vietnam and learn about different methods and techniques.
In order to join this internship, you need to have completed at least two years of speech therapy studies or training. This is because you will work independently at your placement.
You can join from a minimum of two weeks, although we encourage you to stay longer in order to make a greater impact. Our start and end dates are flexible, so you can choose a time that suits you.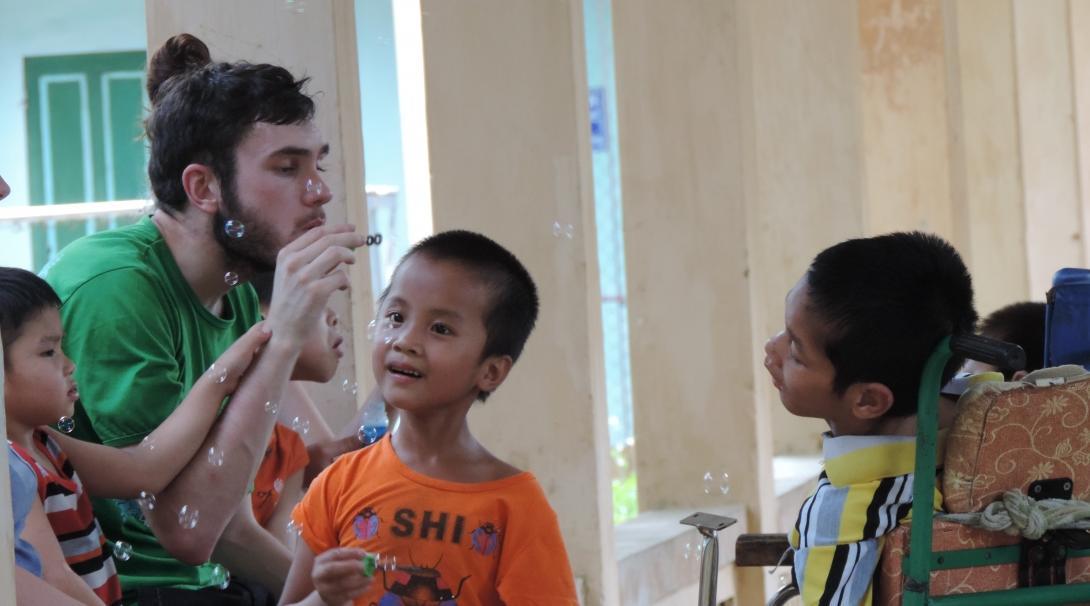 What speech therapy work will I do in Vietnam?
There is a lot of room for you to take initiative on this internship. Some of the things you can do include:
Assist with speech therapy sessions
Provide training for local staff
Keep track of children's progress in our Global Impact Database
Help with the daily running of the rehabilitation centre
Your speech therapy work in Vietnam will focus on the following areas:
Assist with speech therapy sessions
You will work alongside local speech therapists to conduct therapy sessions for children with speech impairments. There may also be the chance to conduct these sessions independently. This is a great way for you to gain hands-on experience. Some of the issues you will work on include cluttering, apraxia of speech, dysarthria, and articulation disorder.
If you would like to bring toys with you, you are more than welcome to do so. These will be greatly beneficial for the patients you will work with. Good examples include:
Toys that light up or have music
Toys that involve fine motor skills such as pulling apart or piecing together
Tongue depressors
Bubbles
Balloons
Provide training for local staff
Some of the local speech therapy staff have not received extensive training in their field. You will help to provide training to these staff by organising workshops or simply sharing your knowledge. By improving the skills of the local staff, you'll ensure that the children in their care benefit from the latest techniques, even after you have gone.
Keep track of children's progress in our Global Impact Database
Monitoring the progress of the people we help ensures that we can track improvements and target problem areas. You will update our Global Impact Database with the children's latest developments. This also ensures continuity between interns, so that the next person can pick up where you leave off.
Help with the daily running of the rehabilitation centre
Quite apart from your speech therapy-related work, there is also plenty that goes into the daily running of a rehabilitation centre. You may find yourself providing extra stimulation and interaction for the children. This may entail teaching them basic skills, such as maths or colouring in. You can also take the children out for daily walks, play games, and assist in the classroom.
Where in Vietnam will I work?
Hanoi
There are two Speech Therapy placement options in Vietnam. The first is based at a partner NGO based in the centre of Hanoi, the capital. This centre cares for children between the ages of 0-18 with a range of disabilities. It currently has ten rooms with two therapists each for speech therapy.
The second placement option is at a rehabilitation centre for people with disabilities, which treats both children and adults. This centre is located in a rural area, around 60 km from the capital. The facilities here are quite basic compared to those in Hanoi.
During your leisure time, there is so much to discover in Vietnam. It's a country rich in history, culture, and geographical wonders. Sample some of the delicious cuisine, visit ancient temples, and take in the incredible scenery.
A typical day at my Speech Therapy placement in Vietnam
After breakfast, it's time to head to work. If you're based in Hanoi, you'll travel from your host family to your placement via taxi or motorbike taxi. On your first day, our staff will be there to show you how to get there. For those who have chosen to work at a rural rehabilitation centre, you will be living on site.
A typical working day runs from 8am - 4pm, Monday to Friday, with around two hours for lunch. Specific tasks will vary according to which placement you choose.
Whichever placement you choose, you will spend your day working alongside local staff, assisting with the therapy sessions for children with speech impairments. There is room to be very proactive and independent on this internship, so use your initiative where you see fit.
There is also room to help with related tasks. These include updating our Global Impact Database with each child's progress, teaching basic skills, helping with daily running of the centre, and training staff.
After the working day has come to a close, it's time to enjoy all that Vietnam has to offer. Those based in the rural rehabilitation centre will be able to travel to Hanoi on the weekends. Spend time getting to know your fellow interns and making new friends from around the world.
What are the aims and impact of this Speech Therapy project?
There are two main aims to this project: to provide you with an educational, practical internship and to improve the quality of specialised care available to disabled people.
Many of the interns who join us are looking for practical work experience in an international environment. We ensure that you are able to learn from local professionals and take part in a variety of related tasks for a well-rounded time abroad. You'll take part in valuable cross-cultural exchange, sharing knowledge and ideas.
Vietnam has a large number of disabled people due to war and disease. Many of these people do not have access to the specialised treatment that they need, due to limited facilities and lack of funding. We have partnered with two organisations in the country that work to address these needs.
You will work with patients to improve their speech, which in turn aids their sense of wellbeing and independence. You'll act as an additional pair of hands in under-resourced institutions, ensuring that patients receive dedicated and specialised care.
We have identified several core goals for our medical work in Vietnam. These include:
Improving hygiene standards
Improving the quality of overall healthcare to patients
Improving the quality of specialised healthcare available to patients
Improving access to basic healthcare for disadvantaged groups
Promoting the exchange of medical knowledge
Join us as an intern and gain speech therapy work experience in Vietnam. This will allow you to prepare for your future career, while helping those who can benefit from your training.
Volunteering for professionals
This project is also perfect for qualified professionals. With your skills backing up our ongoing efforts, we can make an even bigger difference together. We'll match you to the placement where your skills are needed most.
This means you can share your training and and knowledge with others. You can work hand-in-hand with our partner organisations and local communities to support sustainable development.
If you have relevant skills or qualifications, read more about how you can make use of them with Projects Abroad.
Management plans
We set out the aims and objectives of our projects in documents called Management Plans. We use them to properly plan the work you'll do. They also help us measure and evaluate our achievements and impact each year.
Ultimately, our Management Plans help us make our projects better. This in turn means you get to be part of something that makes a real impact where it's needed. Read more about our Management Plans.
Measuring our impact
Our projects work towards clear long-term goals, with specific annual objectives. Every volunteer and intern we send to these projects helps us work towards these goals, no matter how long they spend on our projects.
Every year we take a step back and look at how much progress we've made towards these goals. We put together a Global Impact Report, which documents our achievements. Find out more about the impact our global community of volunteers, interns and staff make, and read the latest report.
Food and accommodation
You'll stay in shared accommodation with other Projects Abroad volunteers and interns while in Vietnam. This is a great way to get to know your fellow volunteers and interns, share experiences, and explore your surroundings in your free time together.
The accommodation is safe, clean, and comfortable. Your programme fees include three meals a day.
Find out more about our accommodation.
Leisure activities and free time
Vietnam offers a mix of bustling cities and picturesque countrysides. With so many different activities and tourist sites, you're bound to find plenty of ways to spend your free time.
For a glimpse into the country's history, you can spend an afternoon exploring the Vietnam Museum of Ethnology or the National Museum of Vietnamese History. The Ho Chi Minh Mausoleum is also a major historic site, located in Hanoi.
If you're looking to buy some souvenirs, there are many markets with locally made products on sale. Evenings in Hanoi are filled with excitement and bright, colourful lights. You can watch street performers and then head to a nearby restaurant for a taste of local cuisine.
The countryside, with its emerald rice paddies stretching to the horizon, provides the perfect escape from the busy capital.
We run many different projects in Vietnam, so there will likely be other volunteers in-country with you. This makes travelling as a group easy to arrange. However, you're welcome to explore independently if you prefer.
Safety and staff support
Your safety and security is our prime concern. We have many procedures and systems to ensure you have the support you need to enjoy your trip with peace of mind. Our Projects Abroad staff are available 24 hours a day to help, and will be on-hand to make sure you settle in well at your accommodation and placement. If you encounter any problems, they will be available to help at any time.
Find out more about safety and backup.
This placement is fully researched, safety audited, and risk assessed in accordance with the British Standard BS8848 for the Adventure Travel Sector.
Not quite what you're looking for?
Take a look at the following pages where you'll find collections of similar projects: