At a glance
Work alongside scientists to protect one of the most endangered marine animals on the planet.
As a research assistant, you'll join survey dives and identify different species in their natural marine habitat, all whilst gaining a PADI diver certification.
Partner with the United Nations Development Programme (UNDP).
Based in the Pacific Harbour, you'll live alongside like-minded volunteers in shared accommodation, exchanging stories and creating new memories that will last a lifetime.
16 or over
You should be able to swim at least 200 metres.
Is Shark Conservation volunteering in Fiji right for me?
Our shark conservation volunteer project is perfect for adventurers and thrill-seekers with a passion for nature, marine life, and the outdoors.
If you're interested in a career in marine conservation, working with sharks is a great fit for you. You'll be working with and learn from some of the top minds in marine biology. You'll gain practical, hands-on experience in marine conservation, which will add valuable skills to your CV. The programme will also give you unique points to talk about in applications and interviews.
No experience? Don't worry! You'll receive full training in your first two weeks to gain your PADI Open Water Diver certificate. This Projects Abroad experience is thrilling but entirely safe. You'll always be supervised by expert diving instructors from our highly respected dive partners, Beqa Adventure Divers. Their safety record on shark dives is 100%.
You can work with sharks in Fiji year-round, so you can join whenever it suits your schedule.
"Probably the Most Important Shark Conservation Project in the World" - Ian Campbell, Global Shark Program Manager, WWF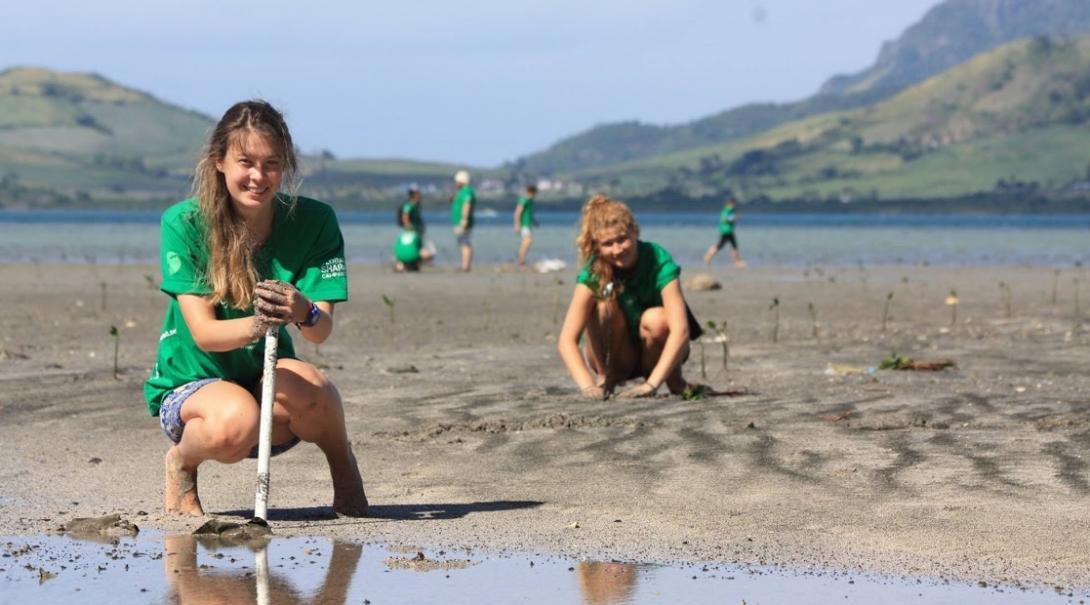 What will I do as a volunteer working with sharks in Fiji?
There's a huge amount of work to be done to conserve marine wildlife and the environment in Fiji. Here are the kind of things you can get up to:
Your work will focus on the following areas:
Get your PADI diving certification
We offer PADI certifications as part of this project because diving is central to the work you'll do. If you're a beginner, you'll complete the PADI Open Water Dive Course during your first two weeks. If you already have diving experience you'll complete the PADI Advanced Course or PADI Rescue Diver Course.
Data collection
During the project you'll help staff collect data from survey dives and Shark dives (twice a month). We share data with global monitoring platforms such as eShark and SharkBase. In 2016, our marine biology research projects was one of the top five most important contributions to these databases.
You'll collect data by:
Going on survey dives and recording details about different species
Doing bi-monthly shark dives to gather important information about behaviour on individual sharks.
Mangrove reforestation
As well as your core work with sharks, you'll help care for mangrove seedlings in our mangrove nursery and replant mangroves along the coast.
Mangroves are one of the most important ecosystems in this region and help marine life conservation. They act as nurseries for many different fish species and help reduce carbon emissions. We're working in partnership with local businesses to work out their carbon emission levels and plant enough mangroves to neutralise them.
Awareness and sustainability initiatives
Help reduce the 73 million sharks killed by humans each year through the campaigns you run. With workshops and outreaches, you'll raise awareness of the importance of sharks, the impact they have on the ecosystem, and sustainability. You'll help make sure that local people are involved in shark conservation work. You'll also help ensure that younger generations continue to protect sharks in the future.
These are some of the activities our volunteers are involved in:
Conducting workshops to teach local people about the importance of marine conservation and living sustainably
Holding classes with school children on recycling, climate change, and sea creatures
Collecting plastic bottles from partner restaurants and resorts and repurposing them as pots for the mangrove nursery
Our partners in Fiji
Projects Abroad works to make the biggest possible difference to shark conservation efforts. Also, to provide the best experience for our volunteers, we make sure you have unparalleled support when you're working on our projects. In Fiji, we work with many great partner organisations to achieve this.
An important aspect of protecting endangered marine life is diving to collect data. To make sure every volunteer can fully participate in this valuable work, we've partnered with PADI and Beqa Adventure Divers.
We've also partnered with major conservation organisations like WWF, Project AWARE, SharkBase, and Friends for Sharks. We share our data with them and, with their support, the work you do can have an even greater impact on shark protection policies.
Where in Fiji will I be working?
Pacific Harbour
On this project, you'll be based in Pacific Harbour, known as the 'adventure capital of Fiji'. This popular tourist area is on the south coast of Viti Levu.
You'll spend most of your time contributing to marine biology research projects during scuba dives off the coast of Pacific Harbour, in the renowned Beqa Lagoon and the Shark Reef Marine Reserve. You'll also be helping with conservation and awareness efforts of marine wildlife in coastal communities.
In your free time, there's plenty to do. Seeking more adrenaline? There's kayaking, ziplining, and white water rafting. The island also has great hiking among breathtaking waterfalls and lush rainforests. If relaxing is more your thing, Pacific Harbour has some of the finest, white-sand beaches on the island.
A typical week on the Shark Conservation Project
This is a typical week, following the completion of your dive course. Days are split into morning and afternoon shifts depending on the number of volunteers. A typical day will run from 7 am to 4 pm, Sunday to Thursday. All your activities will be supervised by trained local professionals, including qualified marine biologists.
Sunday: Survey day
Morning: Survey dives. Going to different spots to record sightings of different species (Sharks, Rays, Fishes, Turtles, and any other species of interest.)
Afternoon: Office work like data entries, workshops, preparing for other activities.
Monday: Mangrove day
Morning: Mangrove workshop or Survey Dive Workshop (Species ID).
Afternoon: Mangrove nursery preparation, maintenance, seed collection, planting, and reforestation work.
Tuesday: Shark Dives

Morning: Shark dives (every two weeks).
Afternoon: Shark workshops where volunteers are introduced to the shark/marine ecology and environmental lectures.
Wednesday: Survey day
Morning: Survey dives. Going to different spots to record sightings of different species (Sharks, Rays, Fishes, etc.)
Afternoon: Office work like data entries, workshops, preparing for other activities.
Thursday: Community Day
Morning: Village Day Experience/Beach clean up/Cultural workshops.
Afternoon: Office work, Volunteer meeting/Debriefing
Friday/Saturday: weekend.
What are the aims and impact of this Shark Conservation Project?
The aim of this project is to protect the shark population in the ocean around Fiji. We started our Shark Conservation Project in Fiji in January 2014 in response to the declining shark population in this area. The Fijian government has identified shark protection as a top conservation priority. Although marine protected areas have been set up to address the decline in shark numbers, the population continues to decrease.
"Sharks are more vulnerable today than ever before." – Boris Worm, Professor of Biology, Dalhousie University, Canada
As one of the top predators in the marine food chain, sharks play a vital role in this ecosystem. The extinction of sharks would have devastating consequences for both marine life and humans. Without sharks, a destructive chain of events would lead to an increase in algae, which would choke coral reefs and eventually kill them.
If coral reefs die, thousands of species will lose their habitat. This would take away a major source of income for local fishermen and a primary food source for Fijian locals.
To ensure we're working towards long-term goals to tackle these issues, we've created a Conservation Management Plan for Fiji. Some of our objectives in this plan include:
Collecting data on marine life to inform conservation policies
Planting mangroves to create the first carbon-neutral resort in Fiji
Raising awareness about conservation and the importance of sharks
Promoting sustainable living in local communities
Join us as a shark conservation volunteer in Fiji and help us work towards achieving these goals.
Management plans
We set out the aims and objectives of our projects in documents called Management Plans. We use them to properly plan the work you'll do. They also help us measure and evaluate our achievements and impact each year.
Ultimately, our Management Plans help us make our projects better. This in turn means you get to be part of something that makes a real impact where it's needed. Read more about our Management Plans.
Measuring our impact
Our projects work towards clear long-term goals, with specific annual objectives. Every volunteer and intern we send to these projects helps us work towards these goals, no matter how long they spend on our projects.
Every year we take a step back and look at how much progress we've made towards these goals. We put together a Global Impact Report, which documents our achievements. Find out more about the impact our global community of volunteers, interns and staff make, and read the latest report.
Food and accommodation
You'll share accommodation with other Projects Abroad volunteers and interns during your stay in Pacific Harbour. This is a great way to get to know your fellow volunteers and interns, share experiences, and explore your surroundings in your free time together.
The accommodation is safe, clean, and comfortable. Your programme fees include three meals a day.
Find out more about our accommodation.
Leisure activities and free time
Experience the beauty of the South Pacific while volunteering with us in Fiji. This tropical island country has plenty of activities and must-see sights for you to enjoy in your free time.
We can't talk about Fiji without mentioning the beaches. With their soft, white sand and clear, blue seas, they are the ideal place to relax and wind down after a day of volunteer work. With the beaches come a bunch of other exciting activities, like water sports and snorkelling.
For a culture-rich experience, you can explore the bright, rainbow-coloured Sri Siva Subramaniya Temple. You can also spend time wandering through art galleries or browsing through stunning handmade pottery in Nadi.
The Kula Eco Park gives you the opportunity to see local plants and animals. For thrill seekers, they also have a zipline going through the park!
You can explore all these different sights on your own or with a group. With so many volunteers joining us in Fiji each year, you're bound to make some new friends to travel with.
Safety and staff support
Your safety and security is our prime concern. We have many procedures and systems to ensure you have the support you need to enjoy your trip with peace of mind. Our Projects Abroad staff are available 24 hours a day to help, and will be on-hand to make sure you settle in well at your accommodation and placement. If you encounter any problems, they will be available to help at any time.
Find out more about safety and backup.
This placement is fully researched, safety audited, and risk assessed in accordance with the British Standard BS8848 for the Adventure Travel Sector.
Not quite what you're looking for?
Take a look at the following pages where you'll find collections of similar projects: