Join a Human Rights internship in Ghana and help raise awareness about human rights in underprivileged communities. You will work with local and international human rights and legal professionals, as well as other interns your age. This is a different and memorable way to add work experience to your CV, and help others at the same time.
Although Ghana is one of the most developed and stable countries in Africa, problems like human trafficking, domestic violence, and sexual abuse still have a significant impact on society. You'll help empower vulnerable people and raise awareness about these and other human rights issues. You will be based at the Projects Abroad Human Rights Office, which is fully run and funded by us.
You will live and work in Accra with a group of people your age, and stay with a local host family. When you're not working, our staff will organise social and cultural activities to keep you busy, along with an exciting weekend trip. This is a wonderful opportunity to make connections and friends from all over the world while exploring Ghanaian culture.
When you apply you only pay £195, which comes off the total price.
Looking to do more than one project? Call us on 01273 007 230 to see if we can offer a discount.
Project Overview
High School Specials - Students aged 15-18, wanting fun, structured, fully-supervised work experience with other teenagers during your holidays
Fixed dates during school holidays
This project is only for 15-18 year olds
What's included in the price?
Accommodation

Food (three meals a day)

Travel and medical insurance

Airport pick-up and drop-off

Full induction and orientation by an experienced staff member on arrival

Transport to and from your work placement

In-country support and 24-hour back-up from our team of full-time local staff

Emergency assistance from our international emergency response team

Project equipment and materials, including access to our database with thousands of resources

Training and workshops from our experienced local staff

Regular social events and community activities with other volunteers and interns

Access to our local office with internet connection

Certification of project completion

Access to our alumni services and discounts

Visa support and advice

Fundraising support, including your own personalised fundraising website

Pre-departure preparation by your own specialist Volunteer Advisor

Personalised MyProjectsAbroad website, with all the information you need about your project, accommodation and destination

A cultural awareness course

Membership to our volunteer social media groups, to share information and to get in touch

Organised weekend tourism trips

Dedicated full-time staff members with you 24 hours a day
What's not included?
Flights

Visa costs (where applicable)
Is a Human Rights internship in Ghana for teenagers right for me?
Are you interested in getting practical human rights work experience abroad? Do you want to help support and empower disadvantaged people at the same time? If you answered yes to these questions, this internship has your name on it!
You'll work with our staff at the Projects Abroad Human Rights Office. The work you do here will add value to your CV, and give you plenty of interesting points to talk about in applications and interviews. You can also add human rights work experience to your CV, giving it an edge. In the process, you'll also demonstrate your commitment to helping others.
On this internship you will be able to brush up on a host of valuable practical skills, such as teamwork, communication, and time management. You will also have the opportunity to help disadvantaged communities and victims of abuse through educational workshops and activities.
You don't need any specific skills or qualifications for this placement. You will be taught everything you need to know during the project, and Projects Abroad staff will be there to guide you at all times.
This High School Special runs over fixed dates for either two or four weeks during the summer. The itinerary is set, and there is extra staff support, ensuring that you will be safe and guided through every step of the process.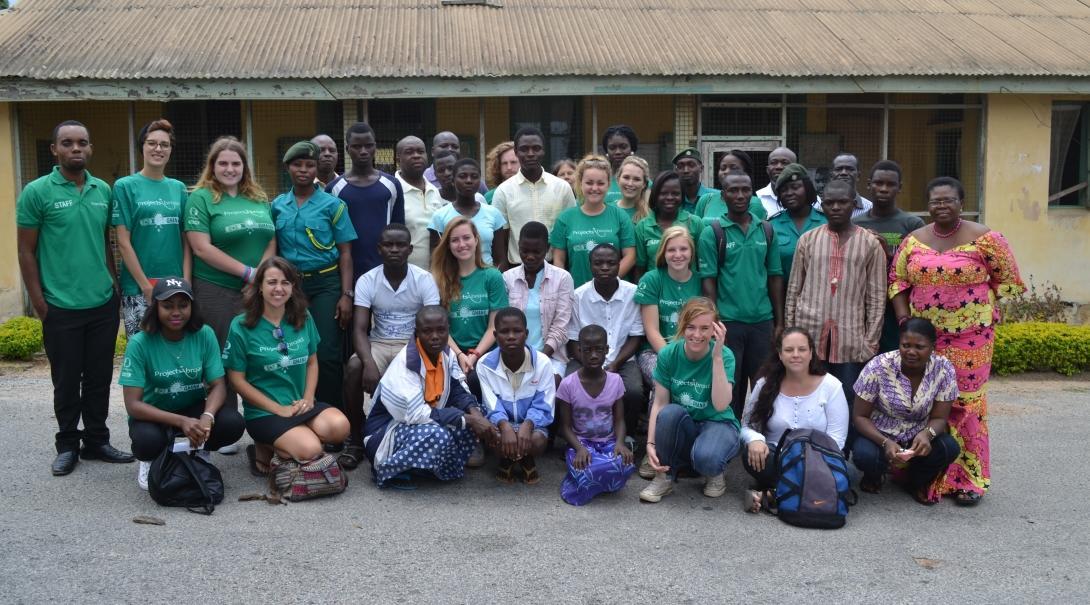 What will I do on a Human Rights placement in Ghana for teenagers?
You will work at the Projects Abroad Human Rights Office in Accra with other interns your age. Here are some of the tasks you can expect to do:
Raise awareness about human rights and get involved in other outreach activities
Learn all about the political and cultural systems in Ghana
Explore Accra with people your age, and learn about the local culture together
Your work will focus on the following areas:
Raise awareness about human rights and get involved in other outreach activities
You will assist with raising awareness about human rights in local communities. Although Ghana is one of the most developed countries in Africa, many people face exploitation and abuse on a daily basis and are not aware of their rights. You will play an important role in empowering these people through knowledge and education.
Learn all about Ghana's unique political and cultural systems
During this internship, you'll have the opportunity to work alongside human rights and legal experts in some of the most marginalised communities in Ghana. These experts have valuable knowledge and research to share, and you will receive numerous lectures and talks from them. You will also be given case studies and assignments in order to learn about Ghana's unique issues and come up with your own proposed solutions.
We encourage you to ask questions and take lots of notes in order to learn as much as you can on this placement.
Explore Accra with other interns
On the weekends you will have a chance to discover Accra with your fellow interns. You will visit the old Cape Coast Castle, and Kakum National Park. You will also have the opportunity to soak up some sun on the beautiful local beaches.
Various social and cultural activities will also be arranged for you, so that you will have a chance to make friends and learn more about life in Ghana. All activities and trips will be supervised by Projects Abroad staff.
Where in Ghana will I work?
Accra
You will stay with a local host family, and will work with the community on human rights programmes. You will split your time between the Projects Abroad Human Rights Office and working in these communities.
You will have the opportunity to explore Ghana with your fellow interns on weekends, which will include visiting Cape Coast, Kakum National Park, and some beautiful local beaches. All activities are planned for you and supervised by Projects Abroad staff.
What are the aims and impacts of this project?
The main aim of this internship is to give you the opportunity to learn about human rights work in practice, and gain hands-on experience.
Ghana faces numerous social problems and challenges. These include domestic violence, child trafficking, and abuse towards disabled citizens. By taking part in this project, you'll become part of our ongoing efforts to address these issues. You'll help raise awareness of basic human rights, and help empower people.
By working alongside human rights and legal experts, you'll learn a lot about human rights work in action. You'll also develop your personal skills such as communication, time management and teamwork. These skills, along with international experience, will add a lot of value to your CV, which could help your future career. This experience may also help you to decide if pursuing a career in law or human rights is the right choice for you.
Join us on this Human Rights internship in Ghana and help us achieve important goals, whilst gaining invaluable practical experience along the way.
Measuring Our Impact
Every year, thousands of High School Special volunteers and interns actively make a difference around the world. During their time abroad, they contribute towards achieving long-term goals and make a long-lasting positive impact on the communities where they work.
We produce an annual High School Specials Impact Report, which documents some of these achievements. Find out more about the impact of these projects, and read the latest report.
Not quite what you're looking for?
Take a look at the following pages where you'll find collections of similar projects: