Project: Childcare & Community
Destination: Cambodia
Group Size: 9 girl guides, 3 leaders
Raising Funds
For two weeks in the summer of 2015, a group of Anglia Girl Guides went on an unforgettable trip to Phnom Penh in Cambodia to volunteer in a local school. The group of 9 girls and 3 leaders fundraised the money individually by getting involved in fun runs, a sponsored walk over the O2 arena and other ideas such as guessing the number of eggs in a jar.
After a couple of days of taking a tour around the city, the girls were introduced to their placement location: Asia's Hope school.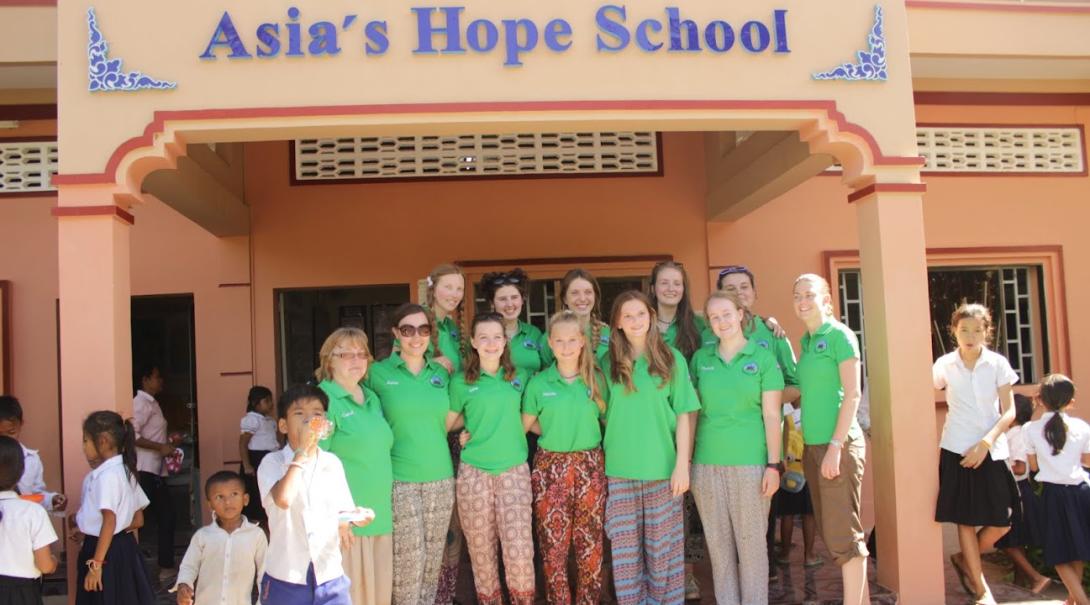 Over the course of the two weeks, the girls helped to build and decorate parts of the school as well as even helping to teach some of the lessons with the help of a local Cambodian group of girl guides.
At the weekend, the group took a coach journey to Siem Reap to visit the local night markets and to witness the majesty of the sun rising over the UNESCO world heritage site of Angkor Wat.
For the rest of our first week, we spent our days continuing our work at the school and getting to know the culture by shopping at the markets, visiting the National Museum and Royal Palace and trying local delicacies such as tarantulas and ants!
We all also got to try our hand at teaching by helping the volunteer teachers already there – it was so much fun and the children loved having us teach them new words. We also met up with some Cambodian girl guides who helped us with a hygiene workshop at the school.
Towards the end of the week, we had a farewell party with the children which was so brilliant. We danced, skipped, blew bubbles and ate!
Angkor Wat
At the weekend, we went on an 8-hour bus journey up to Siem Reap. We stopped off for lunch in a beautiful restaurant overlooking a lake before experiencing the night markets when we arrived. The next day was a 4:30 am start (!) to watch the breathtaking sunrise over Angkor Wat temple.
What We Did
Due to the devastating earthquake In April 2015, our initial planned trip to Nepal was no longer an option. Thankfully, Projects Abroad recommended the equally amazing country of Cambodia. After being shown around the city for two days, we had our first day at Asia's Hope school. We got cracking on with our tasks and started bricklaying, painting and digging.
Reflecting on the Trip
This was a life-changing trip. We were all pushed out of our comfort zones and learnt to adapt to a different, beautiful culture. The work we did at Asia's Hope School was really fantastic. It was so brilliant to be able to create these things for the children and know that they would really leave a mark on their school life. This trip will forever be in our minds as it has shaped us all as people and the way in which we view the world.