It's taken a long time to write this volunteer story, mostly because I have so much to write and I had no idea where to start!
I graduated from university in July 2016 and instead of jumping straight into a career, I decided I wanted to do something a little different, which is why I decided to volunteer abroad. At that point, I was unaware that the experience would have such an impact on my life, that it would throw all my future plans out the window and instead turn my focus to returning to Belize as soon as possible!


My Teaching placement
I chose to do a Teaching placement, despite not having any teaching experience and not planning on pursuing a teaching career in the future. I was assigned to work within the Literacy Programme at Holy Cross Anglican School. This offered something different to the other Teaching Projects, which involved working alongside a teacher in a classroom.
The aim of the Literacy Programme is to help improve the reading and writing skills of students deemed to be struggling. This was achieved by working one-on-one with the students in a dedicated classroom within the school. I really enjoyed this set up, because it allowed the establishment of relationships between the volunteers and the students.
Another thing worth noting is that the Literacy Programme is run by a phenomenal lady, Sue Barkhouse, who was an important part of my experience and who has become a good friend of mine. She is all sorts of crazy and loving, and she is beyond dedicated to helping improve the lives of the children in San Pedro. Working with Sue was an absolute pleasure and I will always be grateful for how welcoming she was.
The Literacy Programme ran on Tuesday and Wednesday mornings, and on Thursdays until 13:30. The rest of the week was dedicated to working on games and activities that we could use with the children. I was the only full-time Literacy volunteer at the time, but I often opted to work in the Projects Abroad office in the company of the Public Health volunteers. It also meant I could easily get to the shops in town where I bought craft supplies. Occasionally if we had some work to do together, Sue would ask me to meet her at the school outside of classroom hours, or even join me in the Projects Abroad office. I enjoyed the flexibility and independence that Sue granted me to utilise my office hours as I thought best.
My role within the programme on a daily basis was to act as a substitute for when other volunteers were not present and to work with the children that were assigned to them. I did however also look after a couple of children on a regular basis myself and I really enjoyed getting to know each of their personalities!
One child in particular was 10 years old and had never enrolled in school before. He came from a Spanish-speaking home and didn't know the alphabet. I worked with him intensively to try and get him up to speed with his classmates as efficiently as possible. He was very timid at first, but by the end of my three months we had developed a friendship and it was really hard to say goodbye! I'm so proud at how far he progressed in the short time we spent together.


Other opportunities
There were a number of other opportunities during my volunteering trip that made my experience memorable. Firstly, I enjoyed getting involved with other activities that Projects Abroad organised for us, such as community days (clean-ups, a cinema trip for the kids, the No to Offshore Oil forum), helping the Public Health volunteers with a father/daughter dance, painting a mural at another primary school and repainting the central park after the carnival madness! Thanks to links through Sue, I also volunteered for some fundraising events for the charity Raise Me Up and I did this work independently from Projects Abroad in my spare time.
One of the highlights of my trip was helping to arrange for the Holy Cross boys' football team to get to Belize City for the regionals round, which without our help gathering funds and organising, they couldn't have done. Cora, Sue and I worked with the coaches of the team and the town council to pull this off and it was a great day! I was also invited to be a judge at the San Pedro High School science fair (having completed a degree in chemistry), which was a great honour to be a part of!


Life in San Pedro
Without meaning to state the obvious, Ambergris Caye is paradise. The slow, relaxed pace of life on the island was infectious, along with the warm and happy attitudes of the locals. "Belize time" is a very real concept, based on the idea that no one should be in a rush. I absolutely loved riding my bike down the multi-coloured streets every day, dodging the people/dogs/golf carts!


My host family
My host family were of Guatemalan origin, so they spoke Spanish at home, although most of them also spoke English. "Grandma" and I developed a funny Spanglish way of communicating with each other! One evening towards the end of my trip, Grandma called me "mi hija", which means "my daughter", and I was so touched!
My host mum was fantastic and she made me feel at home instantly. She is an inspiring lady and I can't wait to go back and see her again. The food was awesome and they were extremely accommodating to some intolerances that I have. As a family, they had spent time in Mexico, so a lot of the food I ate at home was influenced by this (chicken and rice, tostadas, panades, salbutes etc.) Every morning for breakfast I had a massive plateful of fresh fruit – only in the Caribbean!


My free time
Naturally, I developed really close friendships with the other volunteers during my time. But I also really valued the friendships that I made with the locals, because I wanted to immerse myself in the local lifestyle as much as possible.
We met up a lot in the evenings and over the weekends. Often during the weekend, we would choose to do something (e.g. a snorkelling trip) on one day and chill at the beach on the other day. We hired a golf cart a few times so we could go further afield and one weekend we made a trip to the Maya ruin, Lamanai, which is on the mainland. There is definitely the opportunity to do more sightseeing and go further afield, however knowing I will return to the country soon, I was satisfied to stay fairly local and experience the island life as much as possible.
Overall, I had an incredible experience volunteering with Projects Abroad in Belize and would recommend it in an instant. Don't hesitate, say yes to every opportunity that comes your way and go with an open mind!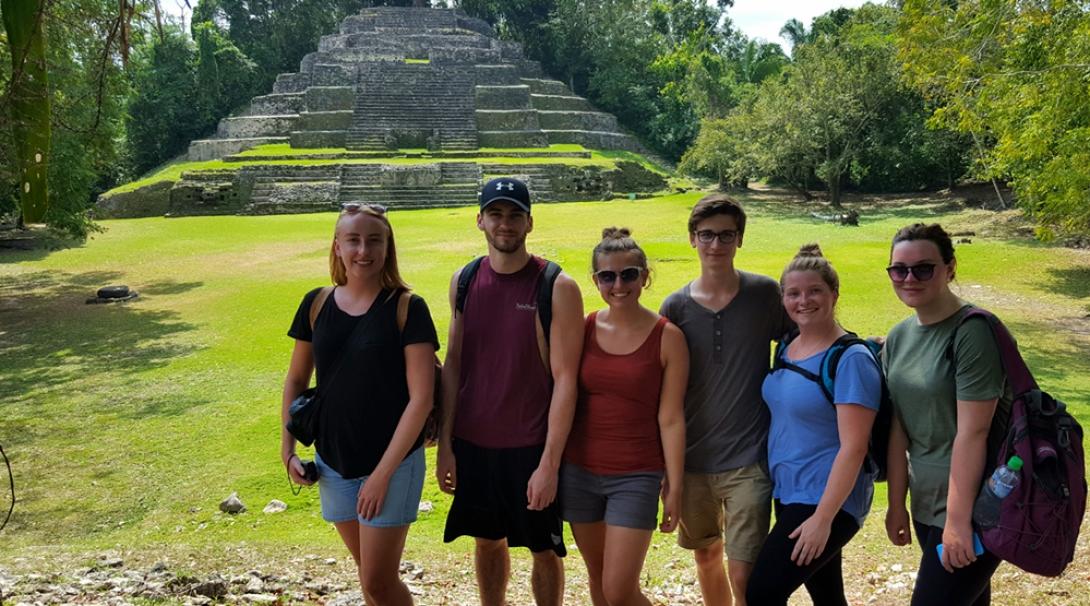 This is a personal account of one volunteer's experience on the project and is a snapshot in time. Your experience may be different, as our projects are constantly adapting to local needs and building on accomplishments. Seasonal weather changes can also have a big impact. To find out more about what you can expect from this project we encourage you to speak to one of our friendly staff.