Volunteer as a teacher in Fiji and work with children in rural areas on the outskirts of Nadi. You'll focus on teaching English and supporting the work of local teachers. This is a great way to get practical teaching work experience in Fiji while helping children at the same time. It will add value to your CV, and could help your future career.
Tourism is a driving force for Fiji's economy. To access better employment opportunities, it's important to speak English and be confident communicating with visitors. This is why we need your help in classrooms in Fiji. Your main role is to teach English, and encourage your students to practice speaking with you as much as possible.
You will be based in one of two bustling cities on Fiji's west coast and live with a local host family. This will be your home away from home and you'll learn all about Fijian hospitality, culture, and traditions.
When you apply you only pay £195, which comes off the total price.
Looking to do more than one project? Call us on 01273 007 230 to see if we can offer a discount.
Project Overview
Flexi Trips - Aged 16+, wanting flexible dates, independence, and a volunteer project or internship tailored exactly to your needs
Completely flexible dates
Anyone aged 16 or over can join
What's included in the price?
Accommodation

Travel and medical insurance

Airport pick-up and drop-off

Food (three meals a day)

Full induction and orientation by an experienced staff member on arrival

Transport to and from your work placement

In-country support and 24-hour back-up from our team of full-time local staff

Emergency assistance from our international emergency response team

Project equipment and materials, including access to our database with thousands of resources

A supervisor/mentor at your work placement

Training and workshops from our experienced local staff

Regular social events and community activities with other volunteers and interns

Access to our local office with internet connection

Certification of project completion

Access to our alumni services and discounts

Visa support and advice

Fundraising support, including your own personalised fundraising website

Pre-departure preparation by your own specialist Volunteer Advisor

Personalised MyProjectsAbroad website, with all the information you need about your project, accommodation and destination

A free cultural awareness course

Membership to our volunteer social media groups, to share information and to get in touch

Support to help you complete registration or internship documents, if applicable
What's not included?
Flights

Visa costs (where applicable)
Is volunteering as an English teacher in Fiji right for me?
This project is open to anyone who is passionate about education and helping disadvantaged children.
You'll get hands-on experience in the classroom, which is perfect if you're planning on becoming a teacher. Even if you're not pursuing a career in education, you'll learn skills that you can apply to any career. These skills include organisation, leadership, and adaptability.
Even if you have no experience but are still interested in teaching in Fiji, sign up! You'll receive a full induction from your project supervisor and you won't be left in the dark when you start teaching. Our staff are on hand to give you advice when needed, and we run regular workshops for all Teaching volunteers. You can also take a look at our extensive online database for ideas.
In addition to teaching English, you can also teach other subjects. If you're interested, let us know.
Our Teaching Project in Fiji runs year round and you can join at any time. You will need to spend at least two weeks on the project, but there is no limit beyond that. The more time you spend on the project, the more impact your work will have.
Your work will focus mainly on the following:
Help improve English conversation skills
It's important that the children you work with are comfortable speaking English. You can help develop their confidence by creating and running fun and stimulating classes that focus on conversation. As a volunteer teaching English in Fiji, you can do things like:
Come up with scenarios where the children have to play different characters
Encourage correct pronunciation through rhymes, songs, and poems
Read stories to help them get used to the way English words sound
Support teachers with other subjects
If you'd like to teach additional subjects, your help will be more than welcome. In these classes, you'd support the local teacher, who will lead the class. Depending on what your interests are, you could help teach subjects such as maths or science.
Alternatively, you can choose to focus on the Physical Education, Music and Arts & Crafts (PEMAC) programme instead. This is something that is run in all schools in Fiji, so you can teach primary or high school students.
Present extracurricular activities
These extra classes are a huge benefit to the kids, and give them a safe space to be creative and active after school.
Sports such as rugby and football are particularly popular among the children. However, if you lean more toward the creative side of things, you could do arts and crafts, music lessons, dance, or drama.
Attend weekly workshops with fellow volunteers
While you're in Fiji to teach, it's also a great opportunity to learn.
As part of our teaching volunteer project in Fiji, we run weekly workshops for all our volunteers. Here you can learn more about Fiji's education system and expand your own skill set. You will also get to exchange ideas with fellow volunteers and Projects Abroad staff members.
You will also receive advice and suggestions regarding lesson planning, classroom management, and activities to carry out at your teaching placement.
Where will I be working in Fiji?
You will be based on Viti Levu, Fiji's main island. While Viti Levu is the largest island in the archipelago, Fiji actually consists of more than 330 islands, of which 110 are permanently inhabited.
You'll work in one of two cities, Lautoka or Nadi. You'll work at a public school in one of the smaller towns surrounding these cities and teach children between the ages of 6 and 12. Keep in mind that many of these schools cater to a large area, so classes tend to be quite big.
Nadi
Nadi is the third largest city in Fiji and located about 24km from Lautoka. It's a multicultural city, with lots of different population groups. It's also a popular stop for tourists to the island.
Lautoka
Lautoka is the second largest city in Fiji, located on the western side of Viti Levu. Lying in the heart of Fiji's sugar cane growing region, it is known as the Sugar City.
What will my typical day be like as a volunteer teacher in Fiji?
A typical day at your volunteer teaching placement in Fiji will run from about 7:30am to 5pm, coinciding with school and extracurricular hours. You will be working closely with local teachers, focusing on English, literacy, and numeracy.
You might start the day off by helping a local teacher out with maths lessons, followed by your first conversation class for the day. The students will have half an hour's break mid-morning, during which you can get ready for the rest of your day's lessons.
School normally finishes around 1:30pm. If your placement is close to where your host family lives, you can head home for lunch. Alternatively, you will enjoy a packed lunch at school.
End the day off by presenting an hour or two of extracurricular activities of your choice. These could include sports, arts, crafts, or music.
During the hours you aren't working, you'll have ample free time to explore with your fellow volunteers.
Since you will be living with a local host family, breakfast or dinners offer great opportunities to get to know them better and fully immerse yourself in their way of life.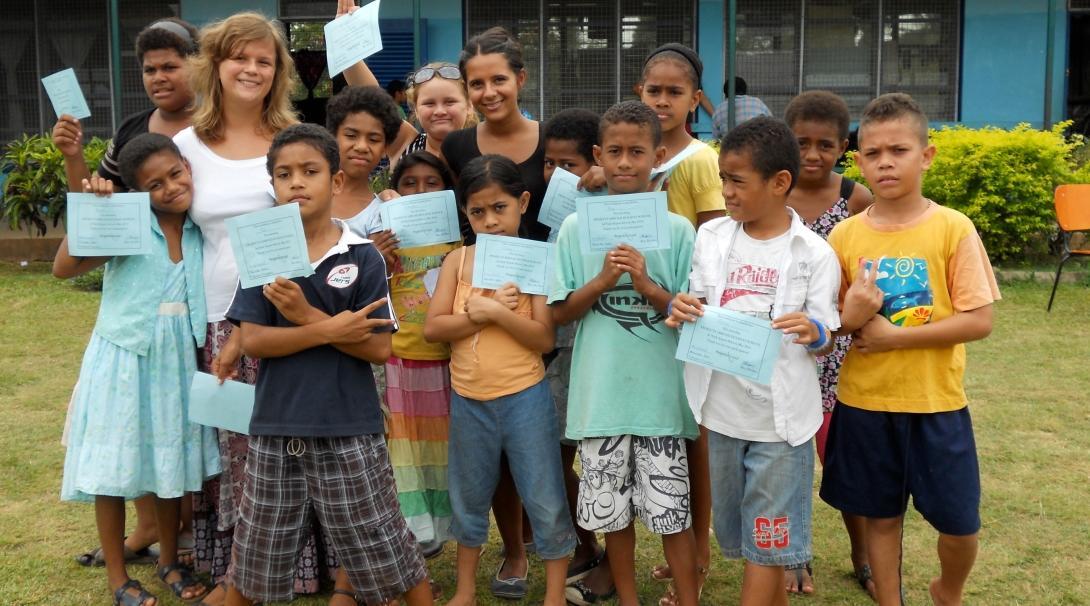 What are the aims and impact of this project?
The aim of this project is to raise English levels in schools and give teachers more support in the classroom.
According to the government, over 25% of Fiji's population lives below the poverty line. Access to better quality education helps people have more employment opportunities. Unfortunately, this is not always available to everyone in Fiji. When you join our volunteer teaching programme in Fiji, you help us minimise the gap between those who have access to education and those who don't.
In order to work towards our Teaching programme mission, we have set the following goals to achieve in the placements where we send our volunteers:
Improve classroom support
Increase literacy
Improve English
Increase numeracy
Improve support for those with learning disabilities
Join us as a volunteer English teacher in Fiji and help us achieve these long-term goals.
For my required Education Internship, I wanted to go abroad to a fascinating country with a unique culture. With a little research, I came across Projects Abroad and their placement in Fiji. The staff were incredibly friendly and quick to respond to my needs required for academic credit.
Volunteer English Teaching in Fiji
Overall, the Projects Abroad Fiji experience changed my life. It offers so many things for the volunteer; you learn from the students, you learn from the other volunteers who are from all walks of life, you learn from your host family, you can learn a new language, you teach others about yourself and most importantly, you learn a ton about yourself by living with and helping others.
Volunteer English Teaching in Fiji
Management Plans
We set out the aims and objectives of our projects in documents called Management Plans. We use them to properly plan the work you'll do. They also help us measure and evaluate our achievements and impact each year.
Ultimately, our Management Plans help us make our projects better. This in turn means you get to be part of something that makes a real impact where it's needed. Read more about our Management Plans.
Measuring Our Impact
Our projects work towards clear long-term goals, with specific annual objectives. Every volunteer and intern we send to these projects helps us work towards these goals, no matter how long they spend on our projects.
Every year we take a step back and look at how much progress we've made towards these goals. We put together a Global Impact Report, which documents our achievements. Find out more about the impact our global community of volunteers, interns and staff make, and read the latest report.
Not quite what you're looking for?
Take a look at the following pages where you'll find collections of similar projects: