At a glance
Help disadvantaged communities whilst working alongside professionals and gaining practical work experience.
You'll do a lot of practical work in Fiji, such as basic health checks, organising wellness workshops, and running exercise classes.
You'll live with a local host family and learn more about Fijian culture, as well as exploring the beautiful island state!
Is a Nutrition internship in Fiji right for me?
If you're passionate about healthy living and would like to help to encourage others, our Nutrition internship in Fiji is for you. This is also the perfect programme for nutrition students looking for practical, hands-on work.
This project is open to anyone who wants to get work experience in the field of nutrition. You don't need any prior experience. You'll also learn skills like working with others, problem-solving, and planning. These are skills you can add to your CV and apply to any career you pursue.
Our Nutrition internship in Fiji runs throughout the year and you can join at any time. You can participate for a minimum of two weeks and stay as long as you like.
What will I be doing on this project?
At your Nutrition placement in Fiji, you'll have the opportunity to gain practical experience and learn from professionals. At the same time, you'll help people understand the importance of healthy living.
Here are some of the tasks you can expect to get involved with:
Work with women's groups, corporate groups, and schools on educational nutrition courses
Assist with health checks to monitor the progress made by beneficiaries
Run cooking and exercise demonstrations to encourage healthy eating
Support the production and consumption of local produce by creating vegetable gardens
Promote a healthier lifestyle for school children
Your work will focus on the following areas:
Run educational workshops
Fiji has a high prevalence of lifestyle-related diseases like diabetes and heart disease among adults. You can help us raise awareness of nutrition and healthy living by running educational workshops. There are a wide range of topics you can focus on, like the dangers of tobacco and alcohol. We would also like you to talk about general food safety to help minimise food-borne diarrhoeal diseases.
Help with health checks
You will work closely with low-income communities over a period of three months. During this period, you will help these communities move towards achieving a healthier lifestyle. This will include taking vital signs such as blood pressure, blood sugar, heart rate, and weight on a regular basis. We then monitor and assess the progress being made.
This data is uploaded into our Global Impact Database in order to centralise the information. This way, we can make sure we provide follow-up care and monitor changes. It also lets us prepare personalised health and diet plans for each beneficiary so we can help long-term.
Run cooking demonstrations and exercise classes
Another practical way to help is to run cooking demonstrations showcasing healthy meals.
You can use a touch of creativity to come up with healthy and affordable meal options for families. You'll use produce from community food gardens to encourage people to eat more fruit and vegetables.
Healthy eating goes hand-in-hand with getting active. You'll help run fun fitness classes to get adults and children moving. We run regular Zumba classes for the women's and corporate groups we work with, but also for schools. You can also do more if you want. We encourage you to be proactive and offer to take groups on short hikes, do basic stretches with kids, or present a yoga class if you're a trained instructor.
Promote a healthier lifestyle for school children
Childhood and adolescence are critical times for forming healthy habits that support long-term overall development. Through our efforts in Fiji, we hope to bring about these changes.
You'll visit schools to engage students in fun physical activities and teach them to identify and consume healthier foods. Students will also participate in the creation of vegetable gardens to reinforce the concept of eating what they grow.
Where will I be working in Fiji?
Nadi
Your Nutrition placement in Fiji is based in Nadi, a city on the west coast of Fiji's main island, Viti Levu. It is the island's main transport hub and receives tourists year-round.
While Viti Levu is the largest island in the archipelago, Fiji actually consists of more than 330 islands. 110 of these islands are permanently inhabited.
With its warm, tropical climate and magnificent palm-lined beaches, Fiji definitely feels like paradise. Over weekends, you will have free time to explore with fellow interns and other volunteers.
What my typical day will be like as a Nutrition intern in Fiji
On your first work day, you'll receive a full briefing about the project. This includes a background of Fiji's health status, previous health check results, and what current interns are working on.
Staff will then train you in conducting health checks. You'll also will receive information on the most widespread lifestyle-related diseases.
After this, you will work every week day from roughly 8am to 5pm, coinciding with the local clinic hours.
Your day-to-day work will differ, offering you a chance to gain experience in various settings. These may include primary schools, women's groups, corporates, and local communities. Information about when and where you'll work is given to you in the form of weekly schedules.
You will start each morning with a meeting that includes all interns and staff. You'll be briefed on the day's activities and prepare anything you'll need for the day.
Evenings and weekends are your free time. Use them to explore the island and even sign up for local cultural and language classes.
What are the aims and impacts of this project?
The main aim of this project is to help lower the prevalence of lifestyle-related diseases among Fijians.
Obesity and being overweight is on the rise in Fiji because of poor lifestyle choices, like eating unhealthy food and not exercising enough. This has led to the rise in associated and avoidable diseases, like diabetes and cardiovascular diseases. These conditions now account for 80% of deaths in Fiji.
Through our Nutrition internship, you'll help us encourage local communities to improve their lifestyle choices. We do this through activities like:
Workshops
Talking about making healthy lifestyle and food choices
Exercise classes
Another part of this project is to improve food security on the island. Food security exists when all people have physical and economic access to safe and nutritious food for an active and healthy life. Due to changes in lifestyle and weather patterns, there has been a reduction in the supply of fresh produce in Fiji. Fijians are eating more processed food.
This is why we build vegetable gardens. It helps us promote the production and consumption of local produce, so more people can access healthy foods. This has the added benefit of encouraging physical exercise.
We have identified five priorities in our Nutrition Management Plan:
Reduce obesity and non-communicable diseases like diabetes and high blood pressure
Improve food security
Improve basic food safety and hygiene knowledge
Promote a healthy lifestyle and environment for school children
Support production and consumption of local produce
Join us today and gain invaluable nutrition work experience in Fiji while helping people make healthier lifestyle choices.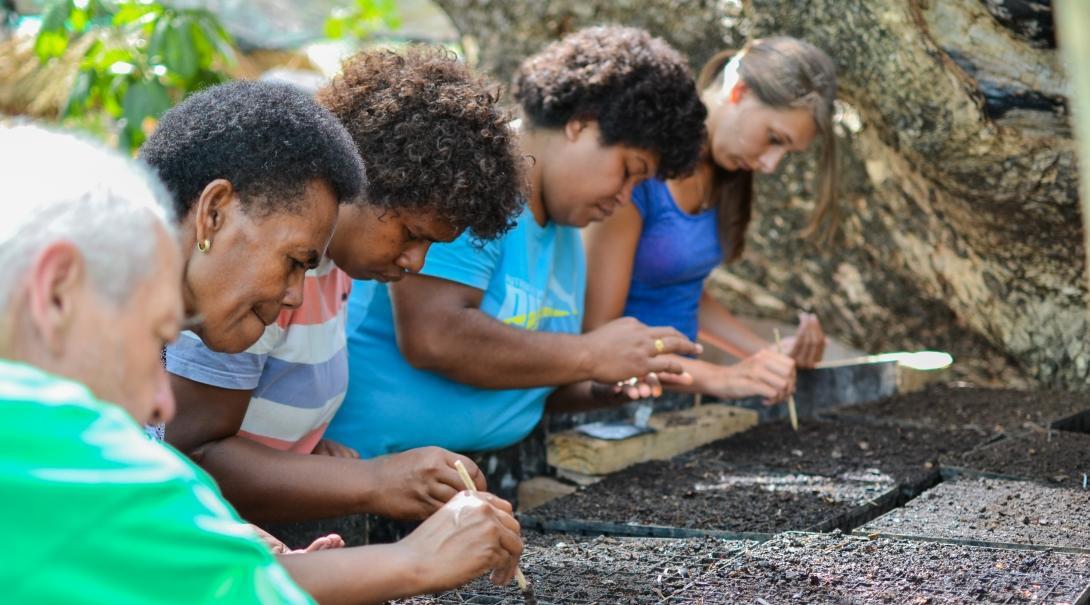 Management plans
We set out the aims and objectives of our projects in documents called Management Plans. We use them to properly plan the work you'll do. They also help us measure and evaluate our achievements and impact each year.
Ultimately, our Management Plans help us make our projects better. This in turn means you get to be part of something that makes a real impact where it's needed. Read more about our Management Plans.
Measuring our impact
Our projects work towards clear long-term goals, with specific annual objectives. Every volunteer and intern we send to these projects helps us work towards these goals, no matter how long they spend on our projects.
Every year we take a step back and look at how much progress we've made towards these goals. We put together a Global Impact Report, which documents our achievements. Find out more about the impact our global community of volunteers, interns and staff make, and read the latest report.
Food and accommodation
You'll stay with a host family in Nadi. They will welcome you into their home, eager to share their customs and have you teach them about your own culture. We believe that this is the best way to immerse yourself in the culture of Fiji and have a truly unique experience.
We will always try to let you live alongside at least one other Projects Abroad volunteer or intern at the same host family. Your room will be modest, but comfortable, clean, and safe.
Your programme fee includes three meals a day.
Find out more about our accommodation.
Leisure activities and free time
Experience the beauty of the South Pacific while volunteering with us in Fiji. This tropical island country has plenty of activities and must-see sights for you to enjoy in your free time.
We can't talk about Fiji without mentioning the beaches. With their soft, white sand and clear, blue seas, they are the ideal place to relax and wind down after a day of volunteer work. With the beaches come a bunch of other exciting activities, like water sports and snorkelling.
For a culture-rich experience, you can explore the bright, rainbow-coloured Sri Siva Subramaniya Temple. You can also spend time wandering through art galleries or browsing through stunning handmade pottery in Nadi.
The Kula Eco Park gives you the opportunity to see local plants and animals. For thrill seekers, they also have a zipline going through the park!
You can explore all these different sights on your own or with a group. With so many volunteers joining us in Fiji each year, you're bound to make some new friends to travel with.
Safety and staff support
Your safety and security is our prime concern. We have many procedures and systems to ensure you have the support you need to enjoy your trip with peace of mind. Our Projects Abroad staff are available 24 hours a day to help, and will be on-hand to make sure you settle in well at your accommodation and placement. If you encounter any problems, they will be available to help at any time.
Find out more about safety and backup.
This placement is fully researched, safety audited, and risk assessed in accordance with the British Standard BS8848 for the Adventure Travel Sector.
Not quite what you're looking for?
Take a look at the following pages where you'll find collections of similar projects: