At a glance
Learn about the Khmer culture whilst travelling around Cambodia and immersing yourself in a different way of life.
We'll teach you about Cambodian history, and you'll gain a deeper understanding of the country's struggles and triumphs.
You'll take part in traditional cooking classes, learn basic Khmer, explore the majestic Angkor Wat temples, and more.
Is the Khmer Cultural Project in Cambodia right for me?
If you're interested in exploring a new country while learning about a culture completely different to your own, then our Khmer cultural immersion project is for you. This is a great opportunity for anyone looking to expand their view of the world through travel and adventure. You'll go beyond being a tourist.
Your focus is on learning about Khmer culture and history, so there are no requirements for joining. All you need is enthusiasm and a healthy dose of curiosity!
This Khmer cultural experience in Cambodia will also add value to your CV. It shows future employers and universities that you are open to new opportunities. You'll show that you're able to step out of your comfort zone and are eager to learn. It also demonstrates independence and the confidence you have in yourself.
This project is open all year round, and you can join for as little as one week. We encourage you to stay longer, so you can explore and learn more.
What will I do on the Khmer Project in Cambodia?
During this cultural immersion project, you'll get to experience multiple aspects of Khmer culture, while learning about Cambodian history at the same time. Here are a few of the things you'll get involved in:
Find out more about Cambodia's history and the heartbreaking details of the Khmer Rouge era
Learn about the Khmer culture through cooking classes, puppet-making classes, dance classes and more
Spend a few days helping out and learning about the Khmer culture in a traditional, rural village
Explore the many cities of Cambodia and the unique qualities they each offer
Learn some useful Khmer words and phrases from the locals living in Cambodia
Your project will focus on the following areas:
Find out more about Cambodia's history
From 1975-1979, Marxist leader Pol Pot started a civil war, along with the Khmer Rouge. This brutal regime claimed the lives of up to two million people and resulted in one of the worst genocides in history. You'll visit museums and hear stories from local people. This will give you a deeper insight into the challenges still affecting Cambodia today, like poverty and a lack of education.
Learn about the Khmer culture through various cultural immersion activities
As we teach you about Khmer culture, you'll have plenty of opportunity to get hands-on with it. You'll do this through activities like:
Cooking classes
Traditional puppet-making
Pottery classes
Khmer dance and singing classes
Spend a few days in a traditional, rural village
You'll spend a few days in a traditional Cambodian village. By doing so, you'll get a better idea of what life is like for families living in more rural areas. You'll lend a helping hand in the village. Depending on the time of year, you'll assist with the planting or harvesting of rice, or spend time teaching the local children basic English.
Explore Cambodian cities and the unique sites they offer
Your trip wouldn't be complete without visiting a few of the sites that makes Cambodia unique. You can find out why the magnificent Angkor Wat temples were built in Siem Reap. You'll watch how pepper is harvested in Kampot. And you'll learn about the pottery trade in Kampong Chhnang.
Learn some Khmer words and phrases
As part of your cultural immersion project, you'll start off by taking part in a Khmer language lesson. We'll teach you basic phrases that you can use with local people. This is extremely useful, considering many Cambodian people don't speak English.
Where in Cambodia will I be completing my project?
Phnom Penh
Our Khmer Project is based in the capital city of Phnom Penh, situated along the Mekong riverside.
The city is home to over 1.5 million of the most friendly people in Asia. Phnom Penh is rapidly changing to keep up with the demands of growing tourism. As you walk along the riverside or through the busy streets, you'll see beautiful architecture and interesting historical sites. There are plenty of restaurants where you can sample local Cambodian cuisine.
No day on the project will ever be the same. You'll visit many of these historical sites and experience life as a local while visiting a small village. Although you'll spend a lot of time in Phnom Penh, you'll also visit other cities, like Siem Reap, Kampong Chhnang, and Kampot.
What is a typical day like on the Khmer Project?
You'll wake up each morning to a homemade Cambodian breakfast in the apartment you share with the other volunteers. Remember to dress respectfully by covering your shoulders and knees, especially if you're visiting sites with religious or royal significance. You'll meet up with your project supervisor and head off in a tuk tuk.
A typical day on the Khmer cultural immersion project usually starts at 8am and finishes around 5pm, Monday to Friday. However, be prepared for longer or shorter days depending on the day's plans.
Each day will be different. Throughout your time in Cambodia, you'll attend a Khmer language lesson, cook traditional Khmer cuisine, and make traditional puppets and handcrafts. You'll delve into Cambodia's history at beautiful buddhist temples, the Royal Palace, the Killing Fields, and the S21 museum.
You'll attend a few evening activities such as a traditional puppet show and Apsara dance shows. Depending how long you stay, you'll even be able to visit other cities around the country such as Siem Reap, Kampot, and Kampong Chhnang. When you visit Siem Reap, we'll take you to see the magnificent Angkor Wat Temple.
Over the weekends, you'll be free to explore the many markets found around Phnom Penh, or organise your own independent travel.
What are the aims and impact of the Khmer cultural immersion project?
The aim of this project is to expose you to a whole new culture and broaden your knowledge of the world. This is a wonderful opportunity for you to explore Cambodia's traditional culture, and see how it relates to the modern world.
Through our Khmer cultural immersion project, you'll be involved in numerous activities. Some will show you more about the Khmer culture and how the locals live, and others will teach you about the history of Cambodia. You'll even have the opportunity to live with a local family in a rural village.
Join our Khmer Project in Cambodia and seize the opportunity to explore and learn about a different and fascinating culture.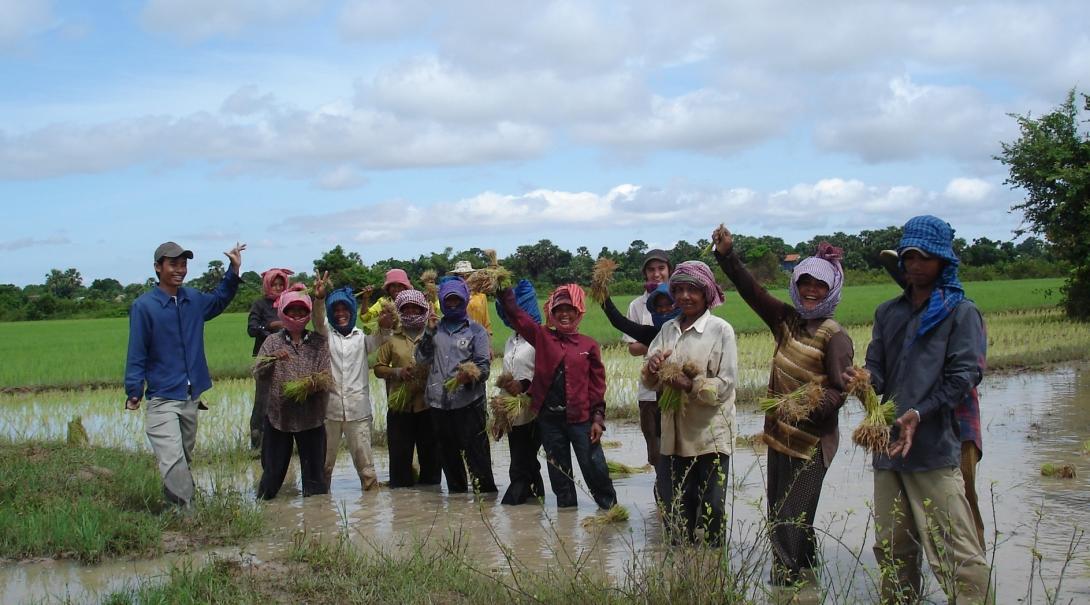 Measuring our impact
Our projects work towards clear long-term goals, with specific annual objectives. Every volunteer and intern we send to these projects helps us work towards these goals, no matter how long they spend on our projects.
Every year we take a step back and look at how much progress we've made towards these goals. We put together a Global Impact Report, which documents our achievements. Find out more about the impact our global community of volunteers, interns and staff make, and read the latest report.
Food and accommodation
You'll share accommodation with other Projects Abroad volunteers and interns during your stay in Phnom Penh. This is a great way to get to know your fellow volunteers and interns, share experiences, and explore your surroundings in your free time together.
The accommodation is safe, clean, and comfortable. Your programme fees include three meals a day.
Find out more about our accommodation.
Leisure activities and free time
Explore Cambodia and you will be amazed by the juxtaposition of vibrant cities, achingly beautiful scenery, and famous historical landmarks. This country has a lot to offer during your free time.
The world-famous gathering of temples near Siem Reap is a must for all visitors, especially the magnificent Angkor Wat. Climbing over huge tree roots to temple doorways shrouded by vines is guaranteed to bring out the Indiana Jones in you!
However, Cambodia offers far more than ancient temples. You can go trekking in the jungles or try snorkelling and dolphin-spotting in the seas surrounding Sihanoukville. For a more relaxed afternoon, you can spend time on one of the beautiful beaches.
What's more, with a network of international volunteers in Cambodia with you, you can decide if you want to spend your free time exploring independently or in a group.
Safety and staff support
Your safety and security is our prime concern. We have many procedures and systems to ensure you have the support you need to enjoy your trip with peace of mind. Our Projects Abroad staff are available 24 hours a day to help, and will be on-hand to make sure you settle in well at your accommodation and placement. If you encounter any problems, they will be available to help at any time.
Find out more about safety and backup.
This placement is fully researched, safety audited, and risk assessed in accordance with the British Standard BS8848 for the Adventure Travel Sector.
Meet the team in Cambodia
Not quite what you're looking for?
Take a look at the following pages where you'll find collections of similar projects: